It's that time of the year when everything is about exams!  But as important as studying is, it is also vital to be taking regular study breaks.  And what better way to spend your break than reading a book?
Below is a list of books that you can dive in and out of during those precious study breaks.  Visit the library today and stock up.
Nick & Norah's infinite playlist by Rachel Cohn & David Levithan
At 208 pages, a little romance does the mind good, and this whirlwind modern classic can cure what ails you. Told in the alternating perspectives of the titular Nick and Norah, the story takes place on an all-night first date–turned–musical odyssey across New York City. The frenetic pace makes this adventurous oddball love story a perfect fit for a quick reading break.
Angus, thongs & full-frontal snogging by Louise Rennison
Angus:
My mixed-breed cat, half domestic tabby, half Scottish wildcat. The size of a small Labrador, only mad.
Thongs:
Stupid underwear. What's the point of them, anyway? They just go up your bum, as far as I can tell.
Full-Frontal Snogging:
Kissing with all the trimmings, lip to lip, open mouth, tongues…everything.
Her dad's got the mentality of a Teletubby (only not so developed). Her cat, Angus, is trying to eat the poodle next door. And her best friend thinks she looks like an alien—just because she accidentally shaved off her eyebrows. Ergghhhlack. Still, add a little boy-stalking, teacher-baiting, and full-frontal snogging with a Sex God, and Georgia's year just might turn out to be the most fabbitty fab fab ever!
To Night Owl from Dogfish by Holly Goldberg Sloan & Meg Wolitzer
This is a quick, easy and fun read.  Told in alternating emails, this book is easy to dip in and out of, but still packs an emotional punch.
Illuminae by Amie Kaufman & Jay Kristoff
Don't be scared off by how thick this book is.  Told in an imaginative non-traditional format, including interview transcripts, media releases, electronic messages…. this gripping sci-fi thriller will keep looking forward to your next study break.
Amelia Westlake by Erin Gough
Two very different girls, and one giant hoax that could change – or ruin – everything.  Each chapter is told by a different character, so ideal for a short break.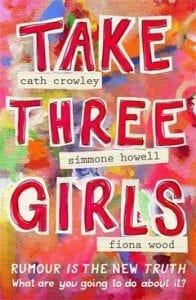 Take Three Girls by Cath Crowley, Simmone Howell & Fiona Wood
Ady – not the confident A-Lister she appears to be.
Kate – brainy boarder taking risks to pursue the music she loves.
Clem – disenchanted swim-star losing her heart to the wrong boy.
All are targeted by PSST, a toxic website that deals in gossip and lies. St Hilda's antidote to the cyber-bullying? The Year 10 Wellness program. Nice try – but sometimes all it takes is three girls.
Each chapter is told from a different character perspective, so ideal for a short study break.
The sun is also a star by Nicola Yoon
Natasha: I'm a girl who believes in science and facts. Not fate. Not destiny. Or dreams that will never come true. I'm definitely not the kind of girl who meets a cute boy on a crowded New York City street and falls in love with him. Not when my family is twelve hours away from being deported to Jamaica. Falling in love with him won't be my story.
Daniel: I've always been the good son, the good student, living up to my parents' high expectations. Never the poet. Or the dreamer. But when I see her, I forget about all that. Something about Natasha makes me think that fate has something much more extraordinary in store—for both of us.
The Universe: Every moment in our lives has brought us to this single moment. A million futures lie before us. Which one will come true?
Chapters alternating between being told by Natasha and Daniel make this an easy study break read.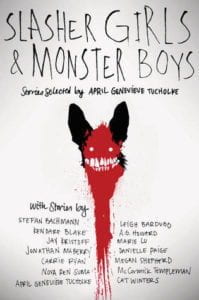 Slasher girls & monster boys
A collection of short stories guaranteed to get your blood pumping – all ready for your next study session.
Tales from the Shadowhunter Academy
A collection of short stories from the Shadowhunter world of Cassandra Clare.  One story per study break sounds about right.
Let it snow by John Green, Maureen Johnson & Lauren Myracle
Don't have time to watch the new movie on Netflix due to studying?  Then read one chapter at a time instead.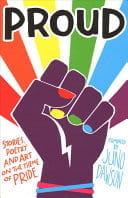 Proud : stories, poetry and art on the theme of Pride
A stirring, bold and moving anthology of stories and poetry by top LGBTQ+ YA authors and new talent, giving their unique responses to the broad theme of pride. Each story has an illustration by an artist identifying as part of the LGBTQ+ community.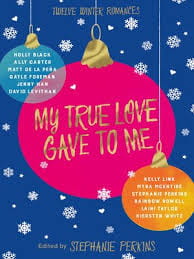 My true love gave to me : twelve holiday stories
If you love holiday stories, holiday movies, made-for-TV-holiday specials, holiday episodes of your favorite sitcoms and, especially, if you love holiday anthologies, you're going to fall in love with My True Love Gave To Me: Twelve Holiday Stories by twelve bestselling young adult writers