The theme for Book Week (18-24 August) in 2018 is "Find your treasure".
Australian author Tristan Bancks puts it perfectly:
"The Australian Children's Book Week theme for 2018 is 'Find Your Treasure'. Such a perfect description of the search to discover your next great book. An incredible story can feel like treasure when it speaks to you and understands the way you think and feel. But not every book is perfect for everyone. I put down just as many books as I finish, but I never give up the hunt for my next great read."
The purpose of Book Week is to encourage people to read.  We can all get value from reading, not just our children.  Reading has been shown to reduce stress, encourage empathy, and improve academic performance…. the list goes on.
It is always a good time to read, but why not use Book Week 2018 as an excuse to go Treasure Hunting in the world of books?
The Children's Book Council of Australia's
Book of the Year winners have been announced…. and the winners are…
For Older Readers: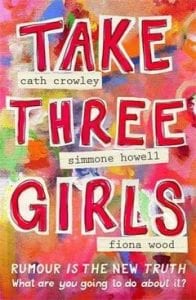 Take Three Girls by Cath Cowley, Simmone Howell & Fiona Wood
For Younger Readers:
How To Bee by Bren MacDibble
Both of these books (and all of the short-listed books) are available in the library!