Have you been inspired by this week's school production of "Rock of Ages"?
Is the whole world you stage?
Then, here are some books available in the library to keep you inspired.
Seen the show? Read the book
Dear Evan Hansen by Val Emmich
From the show's creators comes the groundbreaking novel inspired by the Broadway smash hit Dear Evan Hansen.
Dear Evan Hansen,
Today's going to be an amazing day and here's why…
When a letter that was never meant to be seen by anyone draws high school senior Evan Hansen into a family's grief over the loss of their son, he is given the chance of a lifetime: to belong. He just has to stick to a lie he never meant to tell, that the notoriously troubled Connor Murphy was his secret best friend.
Suddenly, Evan isn't invisible anymore–even to the girl of his dreams. And Connor Murphy's parents, with their beautiful home on the other side of town, have taken him in like he was their own, desperate to know more about their enigmatic son from his closest friend. As Evan gets pulled deeper into their swirl of anger, regret, and confusion, he knows that what he's doing can't be right, but if he's helping people, how wrong can it be?
No longer tangled in his once-incapacitating anxiety, this new Evan has a purpose. And a website. He's confident. He's a viral phenomenon. Every day is amazing. Until everything is in danger of unraveling and he comes face to face with his greatest obstacle: himself.
A simple lie leads to complicated truths in this big-hearted coming-of-age story of grief, authenticity and the struggle to belong in an age of instant connectivity and profound isolation.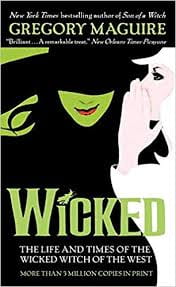 Wicked by Gregory Maguire
When Dorothy triumphed over the Wicked Witch of the West in L. Frank Baum's classic tale we heard only her side of the story. But what about her arch-nemesis, the mysterious Witch? Where did she come from? How did she become so wicked? And what is the true nature of evil?
Gregory Maguire creates a fantasy world so rich and vivid that we will never look at Oz the same way again. Wicked is about a land where animals talk and strive to be treated like first-class citizens, Munchkinlanders seek the comfort of middle-class stability, and the Tin Man becomes a victim of domestic violence. And then there is the little green-skinned girl named Elphaba, who will grow up to become the infamous Wicked Witch of the West, a smart, prickly, and misunderstood creature who challenges all our preconceived notions about the nature of good and evil.
An astonishingly rich re-creation of the land of Oz, this book retells the story of Elphaba, the Wicked Witch of the West, who wasn't so wicked after all. Taking readers past the yellow brick road and into a phantasmagoric world rich with imagination and allegory, Gregory Maguire just might change the reputation of one of the most sinister characters in literature.
Harry Potter and the Cursed Child by John Tiffany & Jack Thorne
The eight story, nineteen years later …
Based on an original new story by J.K. Rowling, Jack Thorne and John Tiffany, a new play by Jack Thorne, Harry Potter and the Cursed Child is the eighth story in the Harry Potter series and the first official Harry Potter story to be presented on stage. The play will receive its world premiere in London's West End on July 30, 2016.
It was always difficult being Harry Potter and it isn't much easier now that he is an overworked employee of the Ministry of Magic, a husband and father of three school-age children.
While Harry grapples with a past that refuses to stay where it belongs, his youngest son Albus must struggle with the weight of a family legacy he never wanted. As past and present fuse ominously, both father and son learn the uncomfortable truth: sometimes, darkness comes from unexpected places.
Matilda by Roald Dahl
Matilda is a little girl who is far too good to be true. At age five-and-a-half she's knocking off double-digit multiplication problems and blitz-reading Dickens. Even more remarkably, her classmates love her even though she's a super-nerd and the teacher's pet. But everything is not perfect in Matilda's world. For starters she has two of the most idiotic, self-centered parents who ever lived. Then there's the large, busty nightmare of a school principal, Miss ("The") Trunchbull, a former hammer-throwing champion who flings children at will and is approximately as sympathetic as a bulldozer. Fortunately for Matilda, she has the inner resources to deal with such annoyances: astonishing intelligence, saintly patience, and an innate predilection for revenge.
She warms up with some practical jokes aimed at her hapless parents, but the true test comes when she rallies in defense of her teacher, the sweet Miss Honey, against the diabolical Trunchbull. There is never any doubt that Matilda will carry the day. Even so, this wonderful story is far from predictable. Roald Dahl, while keeping the plot moving imaginatively, also has an unerring ear for emotional truth. The reader cares about Matilda because in addition to all her other gifts, she has real feelings.
Charlie and the Chocolate Factory by Roald Dahl
Charlie Bucket's wonderful adventure begins when he finds one of Mr. Willy Wonka's precious Golden Tickets and wins a whole day inside the mysterious chocolate factory. Little does he know the surprises that are in store for him!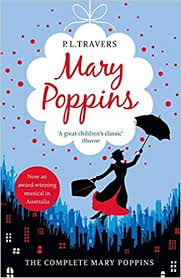 Mary Poppins by P.L. Travers
It all starts when Mary Poppins is blown by the east wind onto the doorstep of the Banks house. She becomes a most unusual nanny to Jane, Michael, and the twins. Who else but Mary Poppins can slide up banisters, pull an entire armchair out of an empty carpetbag, and make a dose of medicine taste like delicious lime-juice cordial? A day with Mary Poppins is a day of magic and make-believe come to life!
The Color Purple by Alice Walker
Set in the deep American South between the wars, it is the tale of Celie, a young black girl born into poverty and segregation. Raped repeatedly by the man she calls 'father', she has two children taken away from her, is separated from her beloved sister Nettie and is trapped into an ugly marriage. But then she meets the glamorous Shug Avery, singer and magic-maker – a woman who has taken charge of her own destiny. Gradually, Celie discovers the power and joy of her own spirit, freeing her from her past and reuniting her with those she loves.
Set the stage
The Gifted, The Talented & Me by William Sutcliffe
Fifteen-year-old Sam isn't special. He's not a famous vlogger, he's never gone viral, and he doesn't want to be the Next Big Thing. What he likes most is chatting to his friends and having a bit of a kick about.
None of which was a problem until Dad got rich and Mum made the whole family move to London. Now Sam is being made to go to the North London Academy for the Gifted and Talented, where every student is too busy planning Hollywood domination or starting alt-metal psychedelica crossover bands or making clothes out of bathmats to give someone as normal as him the time of day. Can Sam navigate his way through the weirdness and find a way to be himself?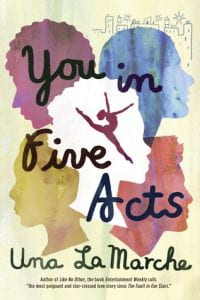 You In 5 Acts by Una LaMarche
Five friends at a prestigious New York City performing arts school connect over one dream: stardom. For Joy, Diego, Liv, Ethan and Dave, that dream falters under the pressure of second semester, senior year. Ambitions shift and change, new emotions rush to the surface, and a sense of urgency pulses among them: Their time together is running out.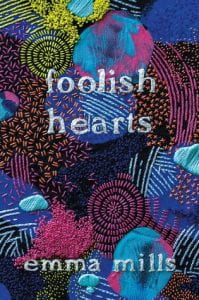 Foolish Hearts by Emma Mills
When Claudia accidentally eavesdrops on the epic breakup of Paige and Iris, the it-couple at her school, she finds herself in hot water with prickly, difficult Iris. Thrown together against their will in the class production of A Midsummer Night's Dream, along with the goofiest, cutest boy Claudia has ever known, Iris and Claudia are in for an eye-opening senior year.
Will Grayson Will Grayson by John Green
Will Grayson meets Will Grayson. One cold night, in a most unlikely corner of Chicago, two strangers are about to cross paths. From that moment on, their world will collide and lives intertwine.
It's not that far from Evanston to Naperville, but Chicago suburbanites Will Grayson and Will Grayson might as well live on different planets. When fate delivers them both to the same surprising crossroads, the Will Graysons find their lives overlapping and hurtling in new and unexpected directions. With a push from friends new and old – including the massive, and massively fabulous, Tiny Cooper, offensive lineman and musical theater auteur extraordinaire – Will and Will begin building toward respective romantic turns-of-heart and the epic production of history's most awesome high school musical.
Always Never Yours by Emily Wibberley & Austin Siegmund-Broka
Shouldn't a girl get to star in her own love story?
Seventeen-year-old Megan Harper is about due for her next sweeping romance. It's inevitable—each of her relationships starts with the perfect guy and ends with him falling in love . . . with someone else. But instead of feeling sorry for herself, Megan focuses on pursuing her next fling, directing theater, and fulfilling her dream college's acting requirement in the smallest role possible.
So when she's cast as Juliet (yes, that Juliet) in her high school's production, it's a complete nightmare. Megan's not an actress, and she's used to being upstaged—both in and out of the theater. In fact, with her mom off in Texas and her dad remarried and on to baby #2 with his new wife, Megan worries that, just like her exes, her family is moving on without her.
Then she meets Owen Okita, an aspiring playwright inspired by Rosaline from Shakespeare's R+J. A character who, like Megan, knows a thing or two about short-lived relationships. Megan agrees to help Owen with his play in exchange for help catching the eye of a sexy stagehand/potential new boyfriend. Yet Megan finds herself growing closer to Owen, and wonders if he could be the Romeo she never expected.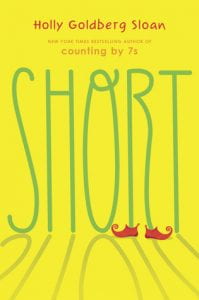 Short by Holly Goldberg Sloan
Julia is very short for her age, but by the end of the summer run of The Wizard of Oz, she'll realize how big she is inside, where it counts. She hasn't ever thought of herself as a performer, but when the wonderful director of Oz casts her as a Munchkin, she begins to see herself in a new way. As Julia becomes friendly with the poised and wise Olive – one of the adults with dwarfism who've joined the production's motley crew of Munchkins – and with her deeply artistic neighbor, Mrs. Chang, Julia's own sense of self as an artist grows. Soon, she doesn't want to fade into the background and it's a good thing, because her director has more big plans for Julia!
Echo After Echo by Amy Rose Capetta
Debuting on the New York stage, Zara is unprepared—for Eli, the girl who makes the world glow; for Leopold, the director who wants perfection; and for death in the theater.
Zara Evans has come to the Aurelia Theater, home to the visionary director Leopold Henneman, to play her dream role in Echo and Ariston, the Greek tragedy that taught her everything she knows about love. When the director asks Zara to promise that she will have no outside commitments, no distractions, it's easy to say yes. But it's hard not to be distracted when there's a death at the theater—and then another—especially when Zara doesn't know if they're accidents, or murder, or a curse that always comes in threes. It's hard not to be distracted when assistant lighting director Eli Vasquez, a girl made of tattoos and abrupt laughs and every form of light, looks at Zara. It's hard not to fall in love. In heart-achingly beautiful prose, Amy Rose Capetta has spun a mystery and a love story into an impossible, inevitable whole—and cast lantern light on two girls, finding each other on a stage set for tragedy.

Withering Tights by Louise Rennison
Picture the scene: Dother Hall performing arts college somewhere Up North, surrounded by rolling dales, bearded cheesemaking villagers (male and female) and wildlife of the squirrely-type. On the whole, it's not quite the showbiz experience Tallulah was expecting… but once her mates turn up and they start their 'FAME! I'm gonna liiiiive foreeeeeever, I'm gonna fill my tiiiiights' summer course things are bound to perk up.
Especially when the boys arrive. (When DO the boys arrive?)
Six weeks of parent-free freedom. BOY freedom. Freedom of expression… cos it's the THEATRE dahling, the theatre!!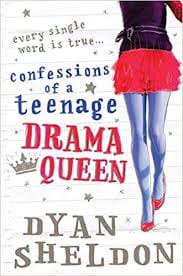 Confessions of a Teenage Drama Queen by Dyan Sheldon
There is only room for one drama queen – which one will take centre stage?
When Lola moves from New York City to boring Dellwood – "Deadwood" – Falls she thinks her life is over. But she soon discovers a way to shake things up – and it involves taking on the high school's biggest bully, getting the lead in the school play, not to mention crashing a rock star's party! Set in an American high school, this is a fast and funny account of the rivalry between Carla, the resident drama queen, and the newcomer, Lola,