The word Geek was originally used to describe an eccentric or non-mainstream person.  But now being a Geek is a label often worn with pride.
Life isn't always easy so it's great when you find a place to fit in.
Here are some great reads available in the library where Geeks Rule!
Geekerella by Ashley Poston
Geek girl Elle Wittimer lives and breathes Starfield, the classic science-fiction series she grew up watching with her late father. So when she sees a cosplay contest for a new Starfield movie, she has to enter. The prize? An invitation to the ExcelsiCon Cosplay Ball and a meet-and-greet with the actor slated to play Federation Prince Carmindor in the reboot. With savings from her gig at the Magic Pumpkin food truck and her dad's old costume, Elle's determined to win – unless her stepsisters get there first.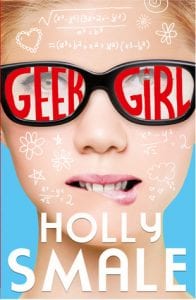 Geek Girl by Holly Smale
Harriet Manners knows a lot of things.
She knows that a cat has 32 muscles in each ear, a "jiffy" lasts 1/100th of a second, and the average person laughs 15 times per day. What she isn't quite so sure about is why nobody at school seems to like her very much. So when she's spotted by a top model agent, Harriet grabs the chance to reinvent herself. Even if it means stealing her Best Friend's dream, incurring the wrath of her arch enemy Alexa, and repeatedly humiliating herself in front of the impossibly handsome supermodel Nick. Even if it means lying to the people she loves.
Queen of Geek by Jen Wilde
Charlie likes to stand out. She's a vlogger and actress promoting her first movie at SupaCon, and this is her chance to show fans she's over her public breakup with co-star Reese Ryan. When internet-famous cool-girl actress Alyssa Huntington arrives as a surprise guest, it seems Charlie's long-time crush on her isn't as one-sided as she thought.
Signs Point To Yes by Sandy Hall
If only Jane's Magic 8 Ball could tell her how to get through the summer. With her "perfect" sister, Margo, home for her "perfect" internship, Jane is not going to be able to spend the summer writing fan fiction, as she had planned. And her emergency babysitting job requires Jane to spend the whole summer in awkward proximity to her new crush, Teo, a nerdy-hot lifeguard with problems of his own. With his best friend out of town, Teo finds himself without anyone to confide in…except Jane. Will Jane and Teo be able to salvage each other's summer? Even the Magic 8 Ball doesn't have an answer…but signs point to yes.
Anatomy of a Misfit by Andrea Portes
Outside, Anika Dragomir is all lip gloss and blond hair—the third most popular girl in school. Inside, she's a freak: a mix of dark thoughts, diabolical plots, and, if local chatter is to be believed, vampire DNA (after all, her father is Romanian). But she keeps it under wraps to maintain her social position. One step out of line and Becky Vilhauer, first most popular girl in school, will make her life hell. So when former loner Logan McDonough shows up one September hotter, smarter, and more mysterious than ever, Anika knows she can't get involved. It would be insane to throw away her social safety for a nerd. So what if that nerd is now a black-leather-jacket-wearing dreamboat, and his loner status is clearly the result of his troubled home life? Who cares if the right girl could help him with all that, maybe even save him from it? Who needs him when Jared Kline, the bad boy every girl dreams of, is asking her on dates? Who?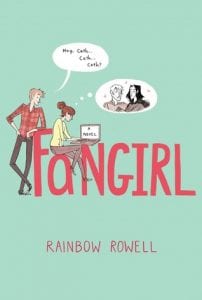 Fangirl by Rainbow Rowell
Cath is a Simon Snow fan.
Okay, the whole world is a Simon Snow fan…
But for Cath, being a fan is her life—and she's really good at it. She and her twin sister, Wren, ensconced themselves in the Simon Snow series when they were just kids; it's what got them through their mother leaving. Reading. Rereading. Hanging out in Simon Snow forums, writing Simon Snow fan fiction, dressing up like the characters for every movie premiere.
Cath's sister has mostly grown away from fandom, but Cath can't let go. She doesn't want to.
Word Nerd by Susin Nielson
Twelve-year-old Ambrose is a glass-half-full kind of guy. A self-described "friendless nerd," he moves from place to place every couple of years with his overprotective mother, Irene. When some bullies at his new school almost kill him by slipping a peanut into his sandwich — even though they know he has a deathly allergy — Ambrose is philosophical. Irene, however, is not and decides that Ambrose will be home-schooled.
Stranger Than Fanfiction by Chris Colfer
Cash Carter is the young, world famous lead actor of the hit television Wiz Kids. When four fans jokingly invite him on a cross-country road trip, they are shocked that he actually takes them up on it. Chased by paparazzi and hounded by reporters, this unlikely crew takes off on a journey of a lifetime–but along the way they discover that the star they love has deep secrets he's been keeping. What they come to learn about the life of the mysterious person they thought they knew will teach them about the power of empathy and the unbreakable bond of true friendship.
Steve Jobs : Insanely Great by Jessie Hartland
This biography in graphic novel format is at once stylish, irreverent, and smart—like Steve Jobs himself. Presenting the story of the ultimate American entrepreneur and perhaps the most influential individual of our time, this unique and groundbreaking book is sure to appeal to the legions of readers who live and breathe in the techno-centric world Jobs created.
Life in Outerspace by Melissa Keil
Sam is a geek movie-buff with a ragtag group of loser friends who have been taking abuse from the popular kids for years. But when the super-cool Camilla moves to town, she surprises everyone by choosing to spend time with Sam's group. Suddenly they go from geek to chic, and find that not everything boils down to us and them. With their social lives in flux, Sam and Camilla spend more and more time together. They become the best of friends, and Sam finds that he's happier and more comfortable in his own skin than ever before. But eventually Sam must admit to himself that he's fallen in love. If he confesses his true feelings to Camilla, will everything change again?
Con-nerd by Oliver Phommavanh
IT'S ONE SMALL STEP FOR NERDS, ONE GIANT LEAP TO BEING COOL.
Mama tells me I'm gifted and talented. But I know the truth. I'm just a nerd.
Kids call me Con-nerd – half Connor and all nerd.
I'm supposed to become a doctor but i have this deep, dark secret:  I want to be a cartoonist.
And all of a sudden my mega-cool comics are getting noticed at school – I might even get into a special art class . That would sure impress this girl I'm keen on . . . and it might just be my chance to show the world my true destiny.
But I'm not sure Mama will see it quite that way . . .
Unconventional by Maggie Harcourt
Lexi Angelo has grown up helping her dad with his events business. She likes to stay behind the scenes, planning and organizing…until author Aidan Green – messy haired and annoyingly arrogant – arrives unannounced at the first event of the year. Then Lexi's life is thrown into disarray.