How much can happen in a day? An hour?  A minute?  Though they tell very different stories, each of these books show how much can happen in a very short time.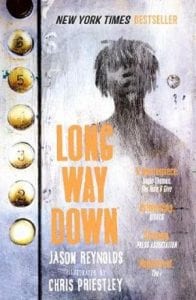 Long Way Down by Jason Reynolds
Driven by the secrets and vengeance that mark his street culture, 15-year-old Will contemplates over the course of 60 psychologically suspenseful seconds whether or not he is going to murder the person who killed his brother.
The Sun Is Also A Star by Nicola Yoon
Set over the course of one day, The Sun Is Also A Star tells the story of Natasha and Daniel and a chance meeting that changes everything.  Natasha believes in science and facts and dreams never coming true.  Natasha and her family are 12 hours away from being deported to Jamaica – she doesn't have time to fall in love.  Daniel has always been the good son, the good student, living up to his parent's high expectations.  But then he sees Natasha and everything changes.  While Natasha is focused on trying to stop their deportation, Daniel opens her eyes to the possibilities of fate.
The Universe: Every moment in our lives has brought us to this single moment. A million futures lie before us. Which one will come true?
Neverworld Wake by Marisha Pessl
Set in one repeating day….
Once upon a time, back at Darrow-Harker School, Beatrice Hartley and her six best friends were the cool kids, the beautiful ones. Then the shocking death of Jim—their creative genius and Beatrice's boyfriend—changed everything.
One year after graduation, Beatrice is returning to Wincroft—the seaside estate where they spent so many nights sharing secrets, crushes, plans to change the world—hoping she'll get to the bottom of the dark questions gnawing at her about Jim's death. But as the night plays out in a haze of stilted jokes and unfathomable silence, Beatrice senses she's never going to know what really happened.
Then a mysterious man knocks on the door. Blithely, he announces the impossible: time for them has become stuck, snagged on a splinter that can only be removed if the former friends make the harshest of decisions. Now Beatrice has one last shot at answers… and at life.
And so begins the Neverworld Wake.
Sam & Ilsa's Last Hurrah by Rachel Cohn and David Levithan
Set over the course on one eventful night…
Siblings Sam and Ilsa Kehlmann have spent most of their high school years throwing parties for their friends—and now they've prepared their final blowout, just before graduation.
The rules are simple: each twin gets to invite three guests, and the other twin doesn't know who's coming until the partiers show up at the door. With Sam and Ilsa, the sibling revelry is always tempered with a large dose of sibling rivalry, and tonight is no exception.
One night. One apartment. Eight people. What could possibly go wrong? Oh, we all know the answer is plenty. But plenty also goes right, as well…in rather surprising ways.
This Is Where It Ends by Marieke Nijkamp
Set over 54 minutes during a school shooting…
10:00 a.m. The principal of Opportunity High School finishes her speech, welcoming the entire student body to a new semester and encouraging them to excel and achieve.
10:02 a.m. The students get up to leave the auditorium for their next class.
10:03 a.m. The auditorium doors won't open.
10:05 a.m. Someone starts shooting.
Told from four different perspectives over the span of fifty-four harrowing minutes, terror reigns as one student's calculated revenge turns into the ultimate game of survival.
Things That Will Not Stand by Michael Gerard Bauer
Sebastian is at a university open day with his best friend Tolly when he meets a girl. Her name is Frida, and shes edgy, caustic and funny. She's also a storyteller, but the stories she tells about herself don't ring true, and as their surprising and eventful day together unfolds, Sebastian struggles to sort the fact from the fiction.
But how much can he expect Frida to share in just one day? And how much of his own self and his own secrets will he be willing to reveal in return?
Release by Patrick Ness
Adam Thorn is having what will turn out to be the most unsettling, difficult day of his life, with relationships fracturing, a harrowing incident at work, and a showdown between this gay teen and his preacher father that changes everything. It's a day of confrontation, running, sex, love, heartbreak, and maybe, just maybe, hope. He won't come out of it unchanged. And all the while, lurking at the edges of the story, something extraordinary and unsettling is on a collision course.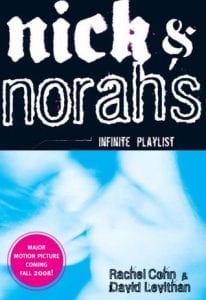 Nick & Norah's Infinite Playlist by Rachel Cohn & David Levithan
It all starts when Nick asks Norah to be his girlfriend for five minutes. He only needs five minutes to avoid his ex-girlfriend, who's just walked in to his band's show. With a new guy. And then, with one kiss, Nick and Norah are off on an adventure set against the backdrop of New York City–and smack in the middle of all the joy, anxiety, confusion, and excitement of a first date.
This he said/she said romance told by YA stars Rachel Cohn and David Levithan is a sexy, funny roller coaster of a story about one date over one very long night, with two teenagers, both recovering from broken hearts, who are just trying to figure out who they want to be–and where the next great band is playing.
Told in alternating chapters, teeming with music references, humor, angst, and endearing side characters, this is a love story you'll wish were your very own.
Forgive me, Leonard Peacock by Matthew Quick
Today is Leonard Peacock's birthday. It is also the day he hides a gun in his backpack. Because today is the day he will kill his former best friend, and then himself, with his grandfather's P-38 pistol.
But first he must say good-bye to the four people who matter most to him: his Humphrey Bogart-obsessed next-door neighbor, Walt; his classmate, Baback, a violin virtuoso; Lauren, the Christian homeschooler he has a crush on; and Herr Silverman, who teaches the high school's class on the Holocaust. Speaking to each in turn, Leonard slowly reveals his secrets as the hours tick by and the moment of truth approaches.
Read Between The Lines by Jo Knowles
Thanks to a bully in gym class, unpopular Nate suffers a broken finger—the middle one, splinted to flip off the world. It won't be the last time a middle finger is raised on this day. Dreamer Claire envisions herself sitting in an artsy café, filling a journal, but fate has other plans. One cheerleader dates a closeted basketball star; another questions just how, as a "big girl," she fits in. A group of boys scam drivers for beer money without remorse—or so it seems. Over the course of a single day, these voices and others speak loud and clear about the complex dance that is life in a small town. They resonate in a gritty and unflinching portrayal of a day like any other, with ordinary traumas, heartbreak, and revenge. But on any given day, the line where presentation and perception meet is a tenuous one, so hard to discern. Unless, of course, one looks a little closer—and reads between the lines.
Bright Before Sunrise by Tiffany Schmidt
When Jonah is forced to move from Hamilton to Cross Pointe for the second half of his senior year, "miserable" doesn't even begin to cover it. He feels like the doggy-bag from his mother's first marriage and everything else about her new life—with a new husband, new home and a new baby—is an upgrade. The people at Cross Pointe High School are pretentious and privileged—and worst of all is Brighton Waterford, the embodiment of all things superficial and popular. Jonah's girlfriend, Carly, is his last tie to what feels real… until she breaks up with him.
For Brighton, every day is a gauntlet of demands and expectations. Since her father died, she's relied on one coping method: smile big and pretend to be fine. It may have kept her family together, but she has no clue how to handle how she's really feeling. Today is the anniversary of his death and cracks are beginning to show. The last thing she needs is the new kid telling her how much he dislikes her for no reason she can understand. She's determined to change his mind, and when they're stuck together for the night, she finally gets her chance.
Jonah hates her at 3p.m., but how will he feel at 3 a.m.?
One night can change how you see the world. One night can change how you see yourself.
13 Reasons Why by Jay Asher
You can't stop the future.
You can't rewind the past.
The only way to learn the secret . . . is to press play.
Clay Jensen returns home from school to find a strange package with his name on it lying on his porch. Inside he discovers several cassette tapes recorded by Hannah Baker–his classmate and crush–who committed suicide two weeks earlier. Hannah's voice tells him that there are thirteen reasons why she decided to end her life. Clay is one of them. If he listens, he'll find out why.
Clay spends the night crisscrossing his town with Hannah as his guide. He becomes a firsthand witness to Hannah's pain, and as he follows Hannah's recorded words throughout his town, what he discovers changes his life forever.