Who didn't grow up having fairytales being read to them, and then going on to read them ourselves?
Well, now it is time to broaden your fairytale horizons and live happily ever after with these fairytale re-tellings available in the library.
Beauty and the Beast
"Hunted" by Meagan Spooner
Beauty knows the Beast's forest in her bones—and in her blood. Though she grew up with the city's highest aristocrats, far from her father's old lodge, she knows that the forest holds secrets and that her father is the only hunter who's ever come close to discovering them.
So when her father loses his fortune and moves Yeva and her sisters back to the outskirts of town, Yeva is secretly relieved. Out in the wilderness, there's no pressure to make idle chatter with vapid baronessas…or to submit to marrying a wealthy gentleman. But Yeva's father's misfortune may have cost him his mind, and when he goes missing in the woods, Yeva sets her sights on one prey: the creature he'd been obsessively tracking just before his disappearance.
Deaf to her sisters' protests, Yeva hunts this strange Beast back into his own territory—a cursed valley, a ruined castle, and a world of creatures that Yeva's only heard about in fairy tales. A world that can bring her ruin or salvation. Who will survive: the Beauty, or the Beast?
"A Court of Thorns and Roses" bu Sarah J. Maas
Feyre's survival rests upon her ability to hunt and kill – the forest where she lives is a cold, bleak place in the long winter months. So when she spots a deer in the forest being pursued by a wolf, she cannot resist fighting it for the flesh. But to do so, she must kill the predator and killing something so precious comes at a price …
Dragged to a magical kingdom for the murder of a faerie, Feyre discovers that her captor, his face obscured by a jewelled mask, is hiding far more than his piercing green eyes would suggest. Feyre's presence at the court is closely guarded, and as she begins to learn why, her feelings for him turn from hostility to passion and the faerie lands become an even more dangerous place. Feyre must fight to break an ancient curse, or she will lose him forever.
"Beauty : A Retelling of the story of Beauty and the Beast" by Robin McKinley
A strange imprisonment…
Beauty has never liked her nickname. She is thin and awkward; it is her two sisters who are the beautiful ones. But what she lacks in looks, she can perhaps make up for in courage.
When her father comes home with the tale of an enchanted castle in the forest and the terrible promise he had to make to the Beast who lives there, Beauty knows she must go to the castle, a prisoner of her own free will. Her father protests that he will not let her go, but she answers, "Cannot a Beast be tamed?"
Cinderella
"Cinder" by Marissa Meyer
A forbidden romance.
A deadly plague.
Earth's fate hinges on one girl . . .
CINDER, a gifted mechanic in New Beijing, is also a cyborg. She's reviled by her stepmother and blamed for her stepsister's sudden illness. But when her life becomes entwined with the handsome Prince Kai's, she finds herself at the centre of a violent struggle between the desires of an evil queen – and a dangerous temptation.
Cinder is caught between duty and freedom, loyalty and betrayal. Now she must uncover secrets about her mysterious past in order to protect Earth's future.
This is not the fairytale you remember. But it's one you won't forget.
"Geekerella" by Ashley Poston
Geek girl Elle Wittimer lives and breathes Starfield, the classic science-fiction series she grew up watching with her late father. So when she sees a cosplay contest for a new Starfield movie, she has to enter. The prize? An invitation to the ExcelsiCon Cosplay Ball and a meet-and-greet with the actor slated to play Federation Prince Carmindor in the reboot. With savings from her gig at the Magic Pumpkin food truck and her dad's old costume, Elle's determined to win – unless her stepsisters get there first.
Teen actor Darien Freeman used to live for cons – before he was famous. Now they're nothing but autographs and awkward meet-and-greets. Playing Carmindor is all he has ever wanted, but Starfield fandom has written him off as just another dumb heartthrob. As ExcelsiCon draws near, Darien feels more and more like a fake – until he meets a girl who shows him otherwise. But when she disappears at midnight, will he ever be able to find her again?
Part-romance, part-love letter to nerd culture, and all totally adorbs, Geekerella is a fairy tale for anyone who believes in the magic of fandom.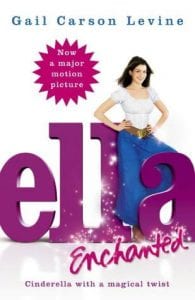 "Ella Enchanted" by Gail Carson Levine
At birth, Ella is inadvertently cursed by an imprudent young fairy named Lucinda, who bestows on her the "gift" of obedience. Anything anyone tells her to do, Ella must obey. Another girl might have been cowed by this affliction, but not feisty Ella: "Instead of making me docile, Lucinda's curse made a rebel of me. Or perhaps I was that way naturally." When her beloved mother dies, leaving her in the care of a mostly absent and avaricious father, and later, a loathsome stepmother and two treacherous stepsisters, Ella's life and well-being seem to be in grave peril. But her intelligence and saucy nature keep her in good stead as she sets out on a quest for freedom and self-discovery as she tries to track down Lucinda to undo the curse, fending off ogres, befriending elves, and falling in love with a prince along the way. Yes, there is a pumpkin coach, a glass slipper, and a happily ever after, but this is the most remarkable, delightful, and profound version of Cinderella you'll ever read.
Sleeping Beauty
"Briar Rose" by Jane Yolen
Ever since she was a child, Rebecca has been enchanted by her grandmother Gemma's stories about Briar Rose. But a promise Rebecca makes to her dying grandmother will lead her on a remarkable journey to uncover the truth of Gemma's astonishing claim: I am Briar Rose. A journey that will lead her to unspeakable brutality and horror. But also to redemption and hope.
"The Sleeper and the Spindle" by Neil Gaiman
A thrillingly reimagined fairy tale from the truly magical combination of author Neil Gaiman and illustrator Chris Riddell – weaving together a sort-of Snow White and an almost Sleeping Beauty with a thread of dark magic, which will hold readers spellbound from start to finish.
On the eve of her wedding, a young queen sets out to rescue a princess from an enchantment. She casts aside her fine wedding clothes, takes her chain mail and her sword and follows her brave dwarf retainers into the tunnels under the mountain towards the sleeping kingdom. This queen will decide her own future – and the princess who needs rescuing is not quite what she seems. Twisting together the familiar and the new, this perfectly delicious, captivating and darkly funny tale shows its creators at the peak of their talents.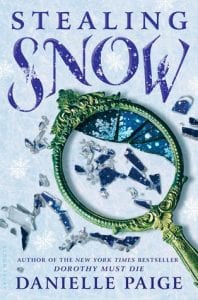 "Stealing Snow" by Danielle Paige
First kisses sometimes wake slumbering princesses, undo spells, and spark happily ever afters.
Mine broke Bale.
Seventeen-year-old Snow has spent her life locked in Whittaker Psychiatric—but she isn't crazy. And that's not the worst of it. Her very first kiss proves anything but innocent…when Bale, her only love, turns violent.
Despite Snow knowing that Bale would never truly hurt her, he is taken away—dashing her last hope for any sort of future in the mental ward she calls home. With nowhere else to turn, Snow finds herself drawn to a strange new orderly who whispers secrets in the night about a mysterious past and a kingdom that's hers for the taking—if only she can find her way past the iron gates to the Tree that has been haunting her dreams.
Beyond the Tree lies Algid, a land far away from the real world, frozen by a ruthless king. And there too await the River Witch, a village boy named Kai, the charming thief Jagger, and a prophecy that Snow will save them all.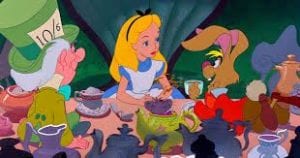 Alice In Wonderland
"The Looking Glass Wars" by Frank Beddor
Alyss of Wonderland?
When Alyss Heart, newly orphaned heir to the Wonderland throne, flees through the Pool of Tears to escape her murderous Aunt Redd, she finds herself lost and alone in Victorian London. Befriended by an aspiring author named Lewis Carrol, Alyss tells the violent, heartbreaking story of her young life. Alyss trusts this author to tell the truth so that someone, somewhere will find her and bring her home. But he gets the story all wrong. He even spells her name incorrectly!
Fortunately, Royal Bodyguard Hatter Madigan knows all too well the awful truth of Alyss' story – and he's searching every corner of our world to find the lost princess and return her to Wonderland, to battle Redd for her rightful place as the Queen of Hearts.
"Heartless" by Marissa Meyer
Long before she was the terror of Wonderland—the infamous Queen of Hearts—she was just a girl who wanted to fall in love.

Catherine may be one of the most desired girls in Wonderland, and a favorite of the unmarried King of Hearts, but her interests lie elsewhere. A talented baker, all she wants is to open a shop with her best friend. But according to her mother, such a goal is unthinkable for the young woman who could be the next queen.
Then Cath meets Jest, the handsome and mysterious court joker. For the first time, she feels the pull of true attraction. At the risk of offending the king and infuriating her parents, she and Jest enter into an intense, secret courtship. Cath is determined to define her own destiny and fall in love on her terms. But in a land thriving with magic, madness, and monsters, fate has other plans.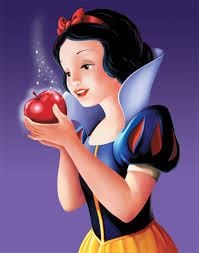 Snow White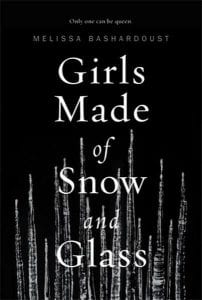 "Girls Made of Snow and Glass" by Melissa Bashardoust
Frozen meets The Bloody Chamber in this feminist fantasy reimagining of the Snow White fairytale At sixteen, Mina's mother is dead, her magician father is vicious, and her silent heart has never beat with love for anyonehas never beat at all, in fact, but shed always thought that fact normal. She never guessed that her father cut out her heart and replaced it with one of glass. When she moves to Whitespring Castle and sees its king for the first time, Mina forms a plan: win the kings heart with her beauty, become queen, and finally know love. The only catch is that shell have to become a stepmother.Fifteen-year-old Lynet looks just like her late mother, and one day she discovers why: a magician created her out of snow in the dead queens image, at her fathers order. But despite being the dead queen made flesh, Lynet would rather be like her fierce and regal stepmother, Mina. She gets her wish when her father makes Lynet queen of the southern territories, displacing Mina. Now Mina is starting to look at Lynet with something like hatred, and Lynet must decide what to doand who to beto win back the only mother shes ever knownor else defeat her once and for all.Entwining the stories of both Lynet and Mina in the past and present, Girls Made of Snow and Glass traces the relationship of two young women doomed to be rivals from the start. Only one can win all, while the other must lose everything unless both can find a way to reshape themselves and their story.In Girls Made of Snow and Glass, Melissa Bashardoust has given us exquisite displays of magic, complex mother-daughter relationships, and gloriously powerful women triumphing in a world that does not want them to be powerful.
"Forest of a thousand lanterns" by Julie C. Dao
An East Asian fantasy reimagining of The Evil Queen legend about one peasant girl's quest to become Empress–and the darkness she must unleash to achieve her destiny.
Eighteen-year-old Xifeng is beautiful. The stars say she is destined for greatness, that she is meant to be Empress of Feng Lu. But only if she embraces the darkness within her. Growing up as a peasant in a forgotten village on the edge of the map, Xifeng longs to fulfill the destiny promised to her by her cruel aunt, the witch Guma, who has read the cards and seen glimmers of Xifeng's majestic future. But is the price of the throne too high?
Because in order to achieve greatness, she must spurn the young man who loves her and exploit the callous magic that runs through her veins–sorcery fueled by eating the hearts of the recently killed. For the god who has sent her on this journey will not be satisfied until his power is absolute.
"The Shadow Queen" by C. J. Redwine
Lorelai Diederich, crown princess and fugitive at large, has one mission: kill the wicked queen who took both the Ravenspire throne and the life of her father. To do that, Lorelai needs to use the one weapon she and Queen Irina have in common—magic. She'll have to be stronger, faster, and more powerful than Irina, the most dangerous sorceress Ravenspire has ever seen.
In the neighboring kingdom of Eldr, when Prince Kol's father and older brother are killed by an invading army of magic-wielding ogres, the second-born prince is suddenly given the responsibility of saving his kingdom. To do that, Kol needs magic—and the only way to get it is to make a deal with the queen of Ravenspire, promise to become her personal huntsman…and bring her Lorelai's heart.
But Lorelai is nothing like Kol expected—beautiful, fierce, and unstoppable—and despite dark magic, Lorelai is drawn in by the passionate and troubled king. Fighting to stay one step ahead of the dragon huntsman—who she likes far more than she should—Lorelai does everything in her power to ruin the wicked queen. But Irina isn't going down without a fight, and her final move may cost the princess the one thing she still has left to lose.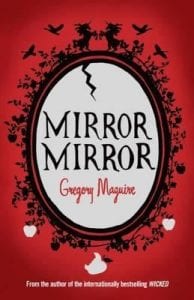 "Mirror Mirror" by Gregory Maquire
The year is 1502, and seven-year-old Bianca de Nevada lives perched high above the rolling hills and valleys of Tuscany and Umbria at Montefiore, the farm of her beloved father, Don Vicente. But one day a noble entourage makes its way up the winding slopes to the farm – and the world comes to Montefiore. In the presence of Cesare Borgia and his sister, the lovely and vain Lucrezia – decadent children of a wicked pope – no one can claim innocence for very long. When Borgia sends Don Vicente on a years-long quest, he leaves Bianca under the care – so to speak – of Lucrezia. She plots a dire fate for the young girl in the woods below the farm, but in the dark forest salvation can be found as well…
"Snow White and the Huntsman by Lily Blake
She is destined… either the Queen will kill her or the Huntsman will transform her into a warrior.
Ten years ago, the stunning and vengeful Queen Ravenna murdered her king the same fateful night she married him. But controlling the now desolate kingdom has begin to take its toll on the evil Queen. To keep her magic and beauty from dying, she must consume a heart that is pure. And the only one that has been under her cruel all along belongs to the king's daughter.
Ravenna calls for the imprisoned Snow White, but the young woman escapes from the castle and seeks refuge in the Dark Forest. Because the forest is enchanted with magical flora and deadly fauna, the Queen sends for the only man who has ventured into the woods and survived: a tortured Hunstman called Eric.
With his hope long forsaken, the Huntsman agrees to bring back the girl. But when Eric finds his prey, he hesitates. Will he kill her?
Or will he train her to become the greatest warrior the kingdom has ever known?
Little Red Riding Hood
"Sisters Red" by Jackson Pearce
Scarlett March lives to hunt the Fenris — the werewolves that took her eye when she was defending her sister Rosie from a brutal attack. Armed with a razor-sharp hatchet and blood-red cloak, Scarlett is an expert at luring and slaying the wolves. She's determined to protect other young girls from a grisly death, and her raging heart will not rest until every single wolf is dead.
Rosie March once felt her bond with her sister was unbreakable. Owing Scarlett her life, Rosie hunts ferociously alongside her. But even as more girls' bodies pile up in the city and the Fenris seem to be gaining power, Rosie dreams of a life beyond the wolves. She finds herself drawn to Silas, a young woodsman who is deadly with an ax and Scarlett's only friend — but does loving him mean betraying her sister and all that they've worked for?