Thursday May 17th our school is celebrating IDAHOBIT day – the International Day Against Homophobia, Biphobia, Intersex Discrimination and Transphobia.
Forest Hill College began marking this day six years ago after a group of students got together to put on a small lunchtime fundraiser- this has continued to grow each year and forms a key part of our yearly calendar of events around wellbeing and inclusive culture.
As part of our inclusive school culture, we have many books available in the library with diverse characters.  Below are a selection of what is available.  Please feel free to speak to one of the library staff for assistance in choosing a book that is right for you.
Two very different girls, and one giant hoax that could change – or ruin – everything.
Harriet Price has the perfect life: she's a prefect at Rosemead Grammar, she lives in a mansion, and her gorgeous girlfriend is a future prime minister. So when she risks it all by creating a hoax to expose the school's many problems – with help from notorious bad-girl Will Everheart, no less – Harriet tells herself it's because she's seeking justice. And definitely not because she finds Will oddly fascinating.But as Will and Harriet's campaign heats up, it gets harder for them to remain sworn enemies – and to avoid being caught. As tensions burn throughout the school, how far will they go to keep their mission – and their feelings for each other – a secret?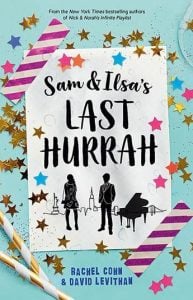 Siblings Sam and Ilsa Kehlmann have spent most of their high school years throwing parties for their friends–and now they've prepared their final blowout, just before graduation.
The rules are simple: each twin gets to invite three guests, and the other twin doesn't know who's coming until the partiers show up at the door. With Sam and Ilsa, the sibling revelry is always tempered with a large dose of sibling rivalry, and tonight is no exception.
One night. One apartment. Eight people. What could possibly go wrong? Oh, we all know the answer is plenty. But plenty also goes right, as well…in rather surprising ways.
Seventeen-year-old Evan Panos doesn't know where he fits in. His strict Greek mother refuses to see him as anything but a disappointment. His quiet, workaholic father is a staunch believer in avoiding any kind of conflict. And his best friend Henry has somehow become distractingly attractive over the summer.
Tired, isolated, scared—Evan's only escape is drawing in an abandoned church that feels as lonely as he is. And, yes, he kissed one guy over the summer. But it's his best friend Henry who's now proving to be irresistible. It's Henry who suddenly seems interested in being more than friends. And it's Henry who makes him believe that he's more than his mother's harsh words and terrifying abuse. But as things with Henry heat up, and his mother's abuse escalates, Evan has to decide how to find his voice in a world where he has survived so long by avoiding attention at all costs.
After a hate crime occurs in his small Texas town, Adrian Piper must discover his own power, decide how to use it, and know where to draw the line in this "powerful debut" novel (Publishers Weekly, starred review) exquisitely illustrated by the author.
Adrian Piper is used to blending into the background. He may be a talented artist, a sci-fi geek, and gay, but at his Texas high school those traits would only bring him the worst kind of attention.
In fact, the only place he feels free to express himself is at his drawing table, crafting a secret world through his own Renaissance-art-inspired superhero, Graphite.
But in real life, when a shocking hate crime flips his world upside down, Adrian must decide what kind of person he wants to be. Maybe it's time to not be so invisible after all—no matter how dangerous the risk.
Sixteen-year-old and not-so-openly gay Simon Spier prefers to save his drama for the school musical. But when an email falls into the wrong hands, his secret is at risk of being thrust into the spotlight. Now Simon is actually being blackmailed: if he doesn't play wingman for class clown Martin, his sexual identity will become everyone's business. Worse, the privacy of Blue, the pen name of the boy he's been emailing, will be compromised.
With some messy dynamics emerging in his once tight-knit group of friends, and his email correspondence with Blue growing more flirtatious every day, Simon's junior year has suddenly gotten all kinds of complicated. Now, change-averse Simon has to find a way to step out of his comfort zone before he's pushed out—without alienating his friends, compromising himself, or fumbling a shot at happiness with the most confusing, adorable guy he's never met.
Three friends, two love stories, one convention: this fun, feminist love letter to geek culture is all about fandom, friendship, and finding the courage to be yourself.
Charlie likes to stand out. She's a vlogger and actress promoting her first movie at SupaCon, and this is her chance to show fans she's over her public breakup with co-star Reese Ryan. When internet-famous cool-girl actress Alyssa Huntington arrives as a surprise guest, it seems Charlie's long-time crush on her isn't as one-sided as she thought.
Taylor likes to blend in. Her brain is wired differently, making her fear change. And there's one thing in her life she knows will never change: her friendship with her best guy friend Jamie—no matter how much she may secretly want it to. But when she hears about a fan contest for her favorite fandom, she starts to rethink her rules on playing it safe.
When Griffin's first love and ex-boyfriend, Theo, dies in a drowning accident, his universe implodes. Even though Theo had moved to California for college and started seeing Jackson, Griffin never doubted Theo would come back to him when the time was right. But now, the future he's been imagining for himself has gone far off course.
To make things worse, the only person who truly understands his heartache is Jackson. But no matter how much they open up to each other, Griffin's downward spiral continues. He's losing himself in his obsessive compulsions and destructive choices, and the secrets he's been keeping are tearing him apart.
If Griffin is ever to rebuild his future, he must first confront his history, every last heartbreaking piece in the puzzle of his life.
Will Grayson meets Will Grayson. One cold night, in a most unlikely corner of Chicago, two strangers are about to cross paths. From that moment on, their world will collide and lives intertwine.
It's not that far from Evanston to Naperville, but Chicago suburbanites Will Grayson and Will Grayson might as well live on different planets. When fate delivers them both to the same surprising crossroads, the Will Graysons find their lives overlapping and hurtling in new and unexpected directions. With a push from friends new and old – including the massive, and massively fabulous, Tiny Cooper, offensive lineman and musical theater auteur extraordinaire – Will and Will begin building toward respective romantic turns-of-heart and the epic production of history's most awesome high school musical.
Simon Snow is the worst Chosen One who's ever been chosen.
That's what his roommate, Baz, says. And Baz might be evil and a vampire and a complete git, but he's probably right.
Half the time, Simon can't even make his wand work, and the other half, he starts something on fire. His mentor's avoiding him, his girlfriend broke up with him, and there's a magic-eating monster running around, wearing Simon's face. Baz would be having a field day with all this, if he were here — it's their last year at the Watford School of Magicks, and Simon's infuriating nemesis didn't even bother to show up.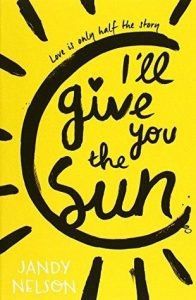 "We were all heading for each other on a collision course, no matter what. Maybe some people are just meant to be in the same story." 
At first, Jude and her twin brother Noah, are inseparable. Noah draws constantly and is falling in love with the charismatic boy next door, while daredevil Jude wears red-red lipstick, cliff-dives, and does all the talking for both of them.
Years later, they are barely speaking. Something has happened to change the twins in different yet equally devastating ways . . . but then Jude meets an intriguing, irresistible boy and a mysterious new mentor.
The early years are Noah's to tell; the later years are Jude's. But they each have only half the story, and if they can only find their way back to one another, they'll have a chance to remake their world.
BELIEVING IS DANGEROUS…
Darcy Patel is afraid to believe all the hype. But it's really happening – her teen novel is getting published. Instead of heading to college, she's living in New York City, where she's welcomed into the dazzling world of YA publishing. That means book tours, parties with her favorite authors, and finding a place to live that won't leave her penniless. It means sleepless nights rewriting her first draft and struggling to find the perfect ending… all while dealing with the intoxicating, terrifying experience of falling in love – with another writer.
Told in alternating chapters is Darcy's novel, the thrilling story of Lizzie, who wills her way into the afterworld to survive a deadly terrorist attack. With survival comes the responsibility to guide the restless spirits that walk our world, including one ghost with whom she shares a surprising personal connection. But Lizzie's not alone in her new calling – she has counsel from a fellow spirit guide, a very desirable one, who is torn between wanting Lizzie and warning her that…
BELIEVING IS DANGEROUS.
Fans of The Mortal Instruments and The Infernal Devices can get to know warlock Magnus Bane like never before in this collection of New York Times bestselling tales, in print for the first time with an exclusive new story and illustrated material.
This collection of eleven short stories illuminates the life of the enigmatic Magnus Bane, whose alluring personality, flamboyant style, and sharp wit populate the pages of the #1 New York Times bestselling series, The Mortal Instruments and The Infernal Devices.
Imagine being the only two seventeen-year-olds in a small town. That's life for Kirby Arrow—named after the most dissenting judge in Australia's history—and her best friend Clancy Lee, would-be musical star.
Clancy wants nothing more than to leave town and head for the big smoke, but Kirby is worried: her family has a history of leaving. She hasn't heard from her father since he left when she was a baby. Shouldn't she stay to help her mother with the goat's-milk soap-making business, look after her grandfather who suffers from dementia, be an apprentice carpenter to old Mr Pool? And how could she leave her pet goat, Stanley, her dog Maude, and her cat Marianne?
But two things happen that change everything for Kirby. She finds an article in the newspaper about her father, and Iris arrives in town. Iris is beautiful, wears crazy clothes, plays the mandolin, and seems perfect, really, thinks Kirby. Clancy has his heart set on winning over Iris. Trouble is Kirby is also falling in love with Iris…
Aristotle is an angry teen with a brother in prison. Dante is a know-it-all who has an unusual way of looking at the world. When the two meet at the swimming pool, they seem to have nothing in common. But as the loners start spending time together, they discover that they share a special friendship—the kind that changes lives and lasts a lifetime. And it is through this friendship that Ari and Dante will learn the most important truths about themselves and the kind of people they want to be.
Ketterdam: a bustling hub of international trade where anything can be had for the right price–and no one knows that better than criminal prodigy Kaz Brekker. Kaz is offered a chance at a deadly heist that could make him rich beyond his wildest dreams. But he can't pull it off alone…
A convict with a thirst for revenge.
A sharpshooter who can't walk away from a wager.
A runaway with a privileged past.
A spy known as the Wraith.
A Heartrender using her magic to survive the slums.
A thief with a gift for unlikely escapes.
Six dangerous outcasts. One impossible heist. Kaz's crew is the only thing that might stand between the world and destruction—if they don't kill each other first.