Science fiction lets us look into the worlds of the future, alien worlds or alternative versions of our world.  From flying around the Universe on space ships, to fighting the Empire or exploring alien worlds, Science Fiction gives us a sense of wonder and epic adventure.
This morning, Kady thought breaking up with Ezra was the hardest thing she'd have to do. This afternoon, her planet was invaded.
The year is 2575, and two rival megacorporations are at war over a planet that's little more than an ice-covered speck at the edge of the universe. Too bad nobody thought to warn the people living on it. With enemy fire raining down on them, Kady and Ezra—who are barely even talking to each other—are forced to fight their way onto an evacuating fleet, with an enemy warship in hot pursuit.
But their problems are just getting started. A deadly plague has broken out and is mutating, with terrifying results; the fleet's AI, which should be protecting them, may actually be their enemy; and nobody in charge will say what's really going on. As Kady hacks into a tangled web of data to find the truth, it's clear only one person can help her bring it all to light: the ex-boyfriend she swore she'd never speak to again.
Moving to a space station at the edge of the galaxy was always going to be the death of Hanna's social life. Nobody said it might actually get her killed.
The sci-fi saga that began with the breakout bestseller Illuminaecontinues on board the Jump Station Heimdall, where two new characters will confront the next wave of the BeiTech assault.
Hanna is the station captain's pampered daughter; Nik the reluctant member of a notorious crime family. But while the pair are struggling with the realities of life aboard the galaxy's most boring space station, little do they know that Kady Grant and the Hypatia are headed right toward Heimdall, carrying news of the Kerenza invasion.
When an elite BeiTech strike team invades the station, Hanna and Nik are thrown together to defend their home. But alien predators are picking off the station residents one by one, and a malfunction in the station's wormhole means the space-time continuum might be ripped in two before dinner. Soon Hanna and Nik aren't just fighting for their own survival; the fate of everyone on the Hypatia—and possibly the known universe—is in their hands.
But relax. They've totally got this. They hope.
Kady, Ezra, Hanna, and Nik narrowly escaped with their lives from the attacks on Heimdall station and now find themselves crammed with 2,000 refugees on the container ship, Mao. With the jump station destroyed and their resources scarce, the only option is to return to Kerenza—but who knows what they'll find seven months after the invasion?
Meanwhile, Kady's cousin, Asha, survived the initial BeiTech assault and has joined Kerenza's ragtag underground resistance. When Rhys—an old flame from Asha's past—reappears on Kerenza, the two find themselves on opposite sides of the conflict.
With time running out, a final battle will be waged on land and in space, heroes will fall, and hearts will be broken.
In the year 2045, reality is an ugly place. The only time teenage Wade Watts really feels alive is when he's jacked into the virtual utopia known as the OASIS. Wade's devoted his life to studying the puzzles hidden within this world's digital confines, puzzles that are based on their creator's obsession with the pop culture of decades past and that promise massive power and fortune to whoever can unlock them. When Wade stumbles upon the first clue, he finds himself beset by players willing to kill to take this ultimate prize. The race is on, and if Wade's going to survive, he'll have to win—and confront the real world he's always been so desperate to escape.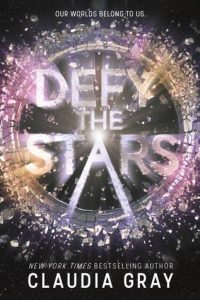 She's a soldier – Noemi Vidal is willing to risk anything to protect her planet, Genesis, including her own life. To their enemies on Earth, she's a rebel.
He's a machine – Abandoned in space for years, utterly alone, Abel's advanced programming has begun to evolve. He wants only to protect his creator, and to be free. To the people of Genesis, he's an abomination.
Noemi and Abel are enemies in an interstellar war, forced by chance to work together as they embark on a daring journey through the stars. Their efforts would end the fighting for good, but they're not without sacrifice. The stakes are even higher than either of them first realized, and the more time they spend together, the more they're forced to question everything they'd been taught was true.
Set in Earth's future, the novel presents an imperiled mankind after two conflicts with the "buggers", an insectoid alien species. In preparation for an anticipated third invasion, children, including the novel's protagonist, Ender Wiggin, are trained from a very young age through increasingly difficult games including some in zero gravity, where Ender's tactical genius is revealed.
He has no voice, or name, only a rank, Eighth. He doesn't know the details of the mission, only the directives that hum in his mind.
Dart the humans. Leave them where they fall.
His job is to protect his Offside. Let her do the shooting.
Until a human kills her…
Sixteen year-old Raven is at summer camp when the terrifying armored Nahx invade, annihilating entire cities, taking control of the Earth. Isolated in the wilderness, Raven and her friends have only a fragment of instruction from the human resistance.
Shelter in place.
Which seems like good advice at first. Stay put. Await rescue. Raven doesn't like feeling helpless but what choice does she have?
Then a Nahx kills her boyfriend.
Thrown together in a violent, unfamiliar world, Eighth and Raven should feel only hate and fear. But when Raven is injured, and Eighth deserts his unit, their survival depends on trusting each other…

"What will happen when you don't come back?"
A genre-smashing kidnapping drama about Tamara, who's faced with an impossible choice when she falls for her captors.
Yet this is no ordinary kidnapping. Tamara has been living on a freighter in deep space, and her kidnappers are terrifying Crowpeople – the only aliens humanity has ever encountered. No-one has ever survived a Crowpeople attack, until now – and Tamara must use everything she has just to stay alive.
But survival always comes at a price, and there's no handbook for this hostage crisis. As Tamara comes to know the Crowpeople's way of life, and the threats they face from humanity's exploration into deep space, she realises she has an impossible choice to make. Should she stay as the only human among the Crows, knowing she'll never see her family again … or inevitably betray her new community if she wants to escape?
Can you fall in love with someone you've never met, never even spoken to – someone who is light years away?
Romy Silvers is the only surviving crew-member of a spaceship travelling to a new planet, on a mission to establish a second home for humanity amongst the stars. Alone in space, she is the loneliest girl in the universe until she hears about a new ship which has launched from Earth – with a single passenger on board. A boy called J.
Their only communication with each other is via email – and due to the distance between them, their messages take months to transmit across space. And yet Romy finds herself falling in love.
But what does Romy really know about J? And what do the mysterious messages which have started arriving from Earth really mean?
Sometimes, there's something worse than being alone . . .
Seconds before the Earth is demolished for a galactic freeway, Arthur Dent is saved by Ford Prefect, a researcher for the revised Guide. Together they stick out their thumbs to the stars and begin a wild journey through time and space.
It's a decade from now and the human race is dying. Plants, animals and humans have been infected by spores from space and become part of a vast alien intelligence.
When 16-year-old Callie discovers her little sister Gracie has been infected, she flees with Gracie to the Zone to avoid termination by the ruthless officers of Quarantine. What Callie finds in the Zone will alter her irrevocably, and send her on a journey to the stars and beyond.
In the near future, scientists create what may be a new form of life: an artificial human named Charlotte. All goes well until Charlotte escapes, transfers her consciousness to the Internet, and begins terrorizing the American public.
Charlotte's attacks have everyone on high alert—everyone except Lee Fisher, the closeted son of the US president. Lee has other things to worry about, like keeping his Secret Service detail from finding out about his crush on Nico, the eccentric, Shakespeare-obsessed new boy at school. And keeping Nico from finding out about his recent suicide attempt. And keeping himself from freaking out about all his secrets.
But when the attacks start happening at his school, Lee realizes he's Charlotte's next target. Even worse, Nico may be part of Charlotte's plan too.
As Lee races to save himself, uncover Charlotte's plan, and figure out if he can trust Nico, he comes to a whole new understanding of what it means to be alive … and what makes life worth living.