Contemporary or Realistic Fiction books are set in a realistic, modern-day world and often overlaps with other genres such as romance and comedy.
Some of the Realistic Fiction we have available in the library are:
Ady – not the confident A-Lister she appears to be.
Kate – brainy boarder taking risks to pursue the music she loves.
Clem – disenchanted swim-star losing her heart to the wrong boy.
All are targeted by PSST, a toxic website that deals in gossip and lies. St Hilda's antidote to the cyber-bullying? The Year 10 Wellness program. Nice try – but sometimes all it takes is three girls.
It's been a year since it happened—when Paige Hancock's first boyfriend died in an accident. After shutting out the world for two years, Paige is finally ready for a second chance at high school . . . and she has a plan. First: Get her old crush, Ryan Chase, to date her—the perfect way to convince everyone she's back to normal. Next: Join a club—simple, it's high school after all. But when Ryan's sweet, nerdy cousin, Max, moves to town and recruits Paige for the Quiz Bowl team (of all things!) her perfect plan is thrown for a serious loop. Will Paige be able to face her fears and finally open herself up to the life she was meant to live?
Moxie girls fight back!
Vivian Carter is fed up. Fed up with her small-town Texas high school that thinks the football team can do no wrong. Fed up with sexist dress codes and hallway harassment. But most of all, Viv Carter is fed up with always following the rules.
Viv's mom was a punk rock Riot Grrrl in the '90s, so now Viv takes a page from her mother's past and creates a feminist zine that she distributes anonymously to her classmates. She's just blowing off steam, but other girls respond. Pretty soon Viv is forging friendships with other young women across the divides of cliques and popularity rankings, and she realizes that what she has started is nothing short of a girl revolution.
Audrey is over romance. Since her parents' relationship imploded her mother's been catatonic, so she takes a cinema job to get out of the house. But there she meets wannabe film-maker Harry. Nobody expects Audrey and Harry to fall in love as hard and fast as they do. But that doesn't mean things are easy. Because real love isn't like the movies…
The greatest love story ever told doesn't feature kissing in the snow or racing to airports. It features pain and confusion and hope and wonder and a ban on cheesy clichés. Oh, and zombies…
Ryan McCullough and Gabby Hart are the unlikeliest of friends. Introverted, anxious Gabby would rather do literally anything than go to a party. Ryan is a star hockey player who can get any girl he wants—and does, frequently. But against all odds, they became not only friends, but each other's favorite person. Now, as they face high school graduation, they can't help but take a moment to reminisce and, in their signature tradition, make a top ten list—counting down the top ten moments of their friendship:
Where to begin? Maybe the night we met.
Then there was our awkward phase.
When you were in love with me but never told me…
Those five months we stopped talking were the hardest of my life.
Through terrible fights…
And emotional makeups.
You were there for me when I got my heart broken.
…but at times, you were also the one breaking it.
Above all, you helped me make sense of the world.
Now, as we head off to college—how am I possibly going to live without you?
Seventeen-year-old Adelaide is sick of being expected to succeed on other people's terms. She knows she just has to stick it out at school for one more year and then she'll be free. Instead, she runs away from her fancy boarding school back to her sleepy hometown to read and dream.
But there are no free rides. When Addie's grandad gets her a job at the local historical society, she soon finds out that it's dusty and dull, just like her new life. Things change when she starts hanging out with Jarrod, a boy who seems full of possibilities. But it turns out he's as stuck as she is. And Addie realises that when you want something in life, you've actually got to do something about it.
A heartfelt tale about love, friendship and finding your own way.
Amber craves excitement and adventure. Instead, she's being bullied at school for having two dads, and life at home isn't much better. Inspired by Oscar Wilde, Amber realizes that among the millions of people in London, there must be others who feel the same as she does; other dreamers – moonlight dreamers. After chance encounters with Maali, Sky and Rose, Amber soon recruits the three girls to the Moonlight Dreamers. It's high time they started pursuing their dreams, and how better than with the support of friends?
This is a love story.
It's the story of Howling Books, where readers write letters to strangers, to lovers, to poets.
It's the story of Henry Jones and Rachel Sweetie. They were best friends once, before Rachel moved to the sea.
Now, she's back, working at the bookstore, grieving for her brother Cal and looking for the future in the books people love, and the words they leave behind.
Desi Lee believes anything is possible if you have a plan. That's how she became student body president. Varsity soccer star. And it's how she'll get into Stanford. But—she's never had a boyfriend. In fact, she's a disaster in romance, a clumsy, stammering humiliation magnet whose botched attempts at flirting have become legendary with her friends. So when the hottest human specimen to have ever lived walks into her life one day, Desi decides to tackle her flirting failures with the same zest she's applied to everything else in her life. She finds guidance in the Korean dramas her father has been obsessively watching for years—where the hapless heroine always seems to end up in the arms of her true love by episode ten. It's a simple formula, and Desi is a quick study. Armed with her "K Drama Steps to True Love," Desi goes after the moody, elusive artist Luca Drakos—and boat rescues, love triangles, and staged car crashes ensue. But when the fun and games turn to true feels, Desi finds out that real love is about way more than just drama.
In this modern-day love story, Girl likes Boy, Girl takes photo of Boy and posts it online, Boy becomes accidentally insta-famous. And what starts out as an innocent joke spirals into a whirlwind adventure that could change both their lives—and their hearts—forever. But are fame and love worth the price?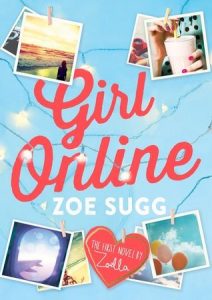 Penny has a secret.
Under the alias GirlOnline, she blogs about school dramas, boys, her mad, whirlwind family – and the panic attacks she's suffered from lately. When things go from bad to worse, her family whisks her away to New York, where she meets the gorgeous, guitar-strumming Noah. Suddenly Penny is falling in love – and capturing every moment of it on her blog.
But Noah has a secret too. One that threatens to ruin Penny's cover – and her closest friendship – forever.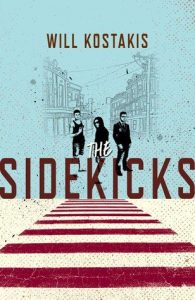 The Swimmer. The Rebel. The Nerd.
All Ryan, Harley and Miles had in common was Isaac. They lived different lives, had different interests and kept different secrets. But they shared the same best friend. They were sidekicks. And now that Isaac's gone, what does that make them?
Everything about Jessie is wrong. At least, that's what it feels like during her first week of junior year at her new ultra-intimidating prep school in Los Angeles. Just when she's thinking about hightailing it back to Chicago, she gets an email from a person calling themselves Somebody/Nobody (SN for short), offering to help her navigate the wilds of Wood Valley High School. Is it an elaborate hoax? Or can she rely on SN for some much-needed help?
It's been barely two years since her mother's death, and because her father eloped with a woman he met online, Jessie has been forced to move across the country to live with her stepmonster and her pretentious teenage son.
In a leap of faith—or an act of complete desperation—Jessie begins to rely on SN, and SN quickly becomes her lifeline and closest ally. Jessie can't help wanting to meet SN in person. But are some mysteries better left unsolved?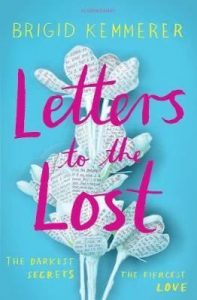 Juliet Young always writes letters to her mother, a world-traveling photojournalist. Even after her mother's death, she leaves letters at her grave. It's the only way Juliet can cope.
Declan Murphy isn't the sort of guy you want to cross. In the midst of his court-ordered community service at the local cemetery, he's trying to escape the demons of his past.
When Declan reads a haunting letter left beside a grave, he can't resist writing back. Soon, he's opening up to a perfect stranger, and their connection is immediate. But neither Declan nor Juliet knows that they're not actually strangers. When life at school interferes with their secret life of letters, sparks will fly as Juliet and Declan discover truths that might tear them apart.
Rev Fletcher is battling the demons of his past. But with loving adoptive parents by his side, he's managed to keep them at bay…until he gets a letter from his abusive father and the trauma of his childhood comes hurtling back.
Emma Blue spends her time perfecting the computer game she built from scratch, rather than facing her parents' crumbling marriage. She can solve any problem with the right code, but when an online troll's harassment escalates, she's truly afraid.
When Rev and Emma meet, they both long to lift the burden of their secrets and bond instantly over their shared turmoil. But when their situations turn dangerous, their trust in each other will be tested in ways they never expected.
If you could read my mind, you wouldn't be smiling.
Samantha McAllister looks just like the rest of the popular girls in her junior class. But hidden beneath the straightened hair and expertly applied makeup is a secret that her friends would never understand: Sam has Purely-Obsessional OCD and is consumed by a stream of dark thoughts and worries that she can't turn off.
Second-guessing every move, thought, and word makes daily life a struggle, and it doesn't help that her lifelong friends will turn toxic at the first sign of a wrong outfit, wrong lunch, or wrong crush. Yet Sam knows she'd be truly crazy to leave the protection of the most popular girls in school. So when Sam meets Caroline, she has to keep her new friend with a refreshing sense of humor and no style a secret, right up there with Sam's weekly visits to her psychiatrist.
Caroline introduces Sam to Poet's Corner, a hidden room and a tight-knit group of misfits who have been ignored by the school at large. Sam is drawn to them immediately, especially a guitar-playing guy with a talent for verse, and starts to discover a whole new side of herself. Slowly, she begins to feel more "normal" than she ever has as part of the popular crowd . . . until she finds a new reason to question her sanity and all she holds dear.
Lifelong friends Jake and Alex are torn apart when they make a terrible split-second decision that ends in tragedy.
As guilt closes in on Jake, he becomes increasingly determined to confess to the police. But Alex just wants to move on with life. He's got a cool new girlfriend, fancy new house and posh new school, and doesn't want his future to be ruined by a mistake in his past.
Two misfits.
One extraordinary love.
Eleanor… Red hair, wrong clothes. Standing behind him until he turns his head. Lying beside him until he wakes up. Making everyone else seem drabber and flatter and never good enough…Eleanor.
Park… He knows she'll love a song before he plays it for her. He laughs at her jokes before she ever gets to the punch line. There's a place on his chest, just below his throat, that makes her want to keep promises…Park.