February is Library Lovers month and it's always fun to read a good love story.
One of the most popular tropes in this genre is the "friends to lovers" story.
So, in the celebration of love, here are some "friends to lovers" stories available in the school library.
Why not come and fall in love with a book today?
Yes No Maybe So by Becky Albertalli & Aisha Saeed – coming soon!
Jamie Goldberg is cool with volunteering for his local state senate candidate—as long as he's behind the scenes. When it comes to speaking to strangers (or, let's face it, speaking at all to almost anyone) Jamie's a choke artist. There's no way he'd ever knock on doors to ask people for their votes…until he meets Maya.
Maya Rehman's having the worst Ramadan ever. Her best friend is too busy to hang out, her summer trip is canceled, and now her parents are separating. Why her mother thinks the solution to her problems is political canvassing—with some awkward dude she hardly knows—is beyond her.
Going door to door isn't exactly glamorous, but maybe it's not the worst thing in the world. After all, the polls are getting closer—and so are Maya and Jamie. Mastering local activism is one thing. Navigating the cross-cultural crush of the century is another thing entirely.
The rest of the story by Sarah Dessen
Childhood friends who reconnect as teenagers and then fall in love? Sign us up for this cuteness.
Emma Saylor doesn't remember a lot about her mother, who died when Emma was twelve. But she does remember the stories her mom told her about the big lake that went on forever, with cold, clear water and mossy trees at the edges.
Now it's just Emma and her dad, and life is good, if a little predictable…until Emma is unexpectedly sent to spend the summer with her mother's family that she hasn't seen since she was a little girl.
When Emma arrives at North Lake, she realizes there are actually two very different communities there. Her mother grew up in working class North Lake, while her dad spent summers in the wealthier Lake North resort. The more time Emma spends there, the more it starts to feel like she is also divided into two people. To her father, she is Emma. But to her new family, she is Saylor, the name her mother always called her.
Then there's Roo, the boy who was her very best friend when she was little. Roo holds the key to her family's history, and slowly, he helps her put the pieces together about her past. It's hard not to get caught up in the magic of North Lake—and Saylor finds herself falling under Roo's spell as well.
For Saylor, it's like a whole new world is opening up to her. But when it's time to go back home, which side of her—Emma or Saylor—will win out?
Anna and the french kiss by Stephanie Perkins
Anna and Étienne are the ultimate "will they or won't they?".
Anna is looking forward to her senior year in Atlanta, where she has a great job, a loyal best friend, and a crush on the verge of becoming more.
Which is why she is less than thrilled about being shipped off to boarding school in Paris–until she meets Étienne St. Clair. Smart, charming, beautiful, Étienne has it all…
Including a serious girlfriend.
But in the City of Light, wishes have a way of coming true. Will a year of romantic near-misses end with their long-awaited French kiss?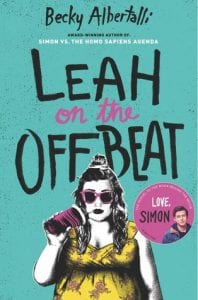 Leah on the offbeat by Becky Albertalli
These two. We cannot deal. We're so obsessed with the buildup between Leah and—spoiler alert—Abby!
When it comes to drumming, Leah Burke is usually on beat—but real life isn't always so rhythmic.
She's an anomaly in her friend group: the only child of a young, single mom, and her life is decidedly less privileged. She loves to draw but is too self-conscious to show it. And even though her mom knows she's bisexual, she hasn't mustered the courage to tell her friends—not even her openly gay BFF, Simon.
So Leah really doesn't know what to do when her rock-solid friend group starts to fracture in unexpected ways. With prom and college on the horizon, tensions are running high.
It's hard for Leah to strike the right note while the people she loves are fighting—especially when she realizes she might love one of them more than she ever intended.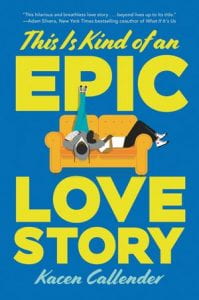 This is kind of an epic love story by Kacen Callender
A friends-to-lovers happily-ever-after that truly needs to top your TBRs.
Nathan Bird doesn't believe in happy endings.
Although he's the ultimate film buff and an aspiring screenwriter, Nate's seen the demise of too many relationships to believe that happy endings exist in real life.
Playing it safe to avoid a broken heart has been his MO ever since his father died and left his mom to unravel—but this strategy is not without fault. His best-friend-turned-girlfriend-turned-best-friend-again, Florence, is set on making sure Nate finds someone else. And in a twist that is rom-com-worthy, someone does come along: Oliver James Hernández, his childhood best friend.
After a painful mix-up when they were little, Nate finally has the chance to tell Ollie the truth about his feelings. But can Nate find the courage to pursue his own happily ever after?
The Raven boys by Maggie Stiefvater
taps mic WE LOVE ADAM AND RONAN WITH ALL OUR HEARTS.
It is freezing in the churchyard, even before the dead arrive.
Every year, Blue Sargent stands next to her clairvoyant mother as the soon-to-be dead walk past. Blue herself never sees them—not until this year, when a boy emerges from the dark and speaks directly to her.
His name is Gansey, and Blue soon discovers that he is a rich student at Aglionby, the local private school. Blue has a policy of staying away from Aglionby boys. Known as Raven Boys, they can only mean trouble.
But Blue is drawn to Gansey, in a way she can't entirely explain. He has it all—family money, good looks, devoted friends—but he's looking for much more than that. He is on a quest that has encompassed three other Raven Boys: Adam, the scholarship student who resents all the privilege around him; Ronan, the fierce soul who ranges from anger to despair; and Noah, the taciturn watcher of the four, who notices many things but says very little.
For as long as she can remember, Blue has been warned that she will cause her true love to die. She never thought this would be a problem. But now, as her life becomes caught up in the strange and sinister world of the Raven Boys, she's not so sure anymore.
We know everyone isn't on the same page about Alina and Mal, but hey, he's not a genocidal villain. And besides, that line—you know the line—gets us every time. "They had an ordinary life, full of ordinary things—if love can ever be called that."
Shadow and Bone by Leigh Bardugo
Surrounded by enemies, the once-great nation of Ravka has been torn in two by the Shadow Fold, a swath of near impenetrable darkness crawling with monsters who feast on human flesh. Now its fate may rest on the shoulders of one lonely refugee.
Alina Starkov has never been good at anything. But when her regiment is attacked on the Fold and her best friend is brutally injured, Alina reveals a dormant power that saves his life—a power that could be the key to setting her war-ravaged country free. Wrenched from everything she knows, Alina is whisked away to the royal court to be trained as a member of the Grisha, the magical elite led by the mysterious Darkling.
Yet nothing in this lavish world is what it seems. With darkness looming and an entire kingdom depending on her untamed power, Alina will have to confront the secrets of the Grisha… and the secrets of her heart.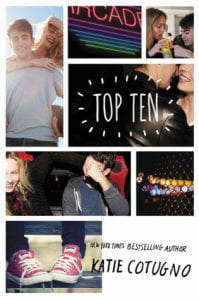 Top ten by Katie Cotugno
You know you're getting something really special in a Katie Cotugno book, and the relationship between Ryan and Gabby is no exception.
Ryan McCullough and Gabby Hart are the unlikeliest of best friends. Prickly, anxious Gabby would rather do literally anything than go to a party. Ultra-popular Ryan is a hockey star who can get any girl he wants—and frequently does.
But somehow their relationship just works; from dorky Monopoly nights to rowdy house parties to the top ten lists they make about everything under the sun.
Now, on the night of high school graduation, everything is suddenly changing—in their lives, and in their relationship. As they try to figure out what they mean to each other and where to go from here, they make a final top ten list: this time, counting down the top ten moments of their friendship.
Lady Midnight by Cassandra Clare
Julian and Emma!!! That's it that's the post.
It's been five years since the events of City of Heavenly Fire that brought the Shadowhunters to the brink of oblivion. Emma Carstairs is no longer a child in mourning, but a young woman bent on discovering what killed her parents and avenging her losses.
Together with her parabatai Julian Blackthorn, Emma must learn to trust her head and her heart as she investigates a demonic plot that stretches across Los Angeles, from the Sunset Strip to the enchanted sea that pounds the beaches of Santa Monica. If only her heart didn't lead her in treacherous directions…
Making things even more complicated, Julian's brother Mark—who was captured by the faeries five years ago—has been returned as a bargaining chip. The faeries are desperate to find out who is murdering their kind—and they need the Shadowhunters' help to do it. But time works differently in faerie, so Mark has barely aged and doesn't recognize his family. Can he ever truly return to them? Will the faeries really allow it?
[from original article, "These 14 friends-to-lovers romances will steal your heart", by Team Epicreads, January 24th 2020]