May 20th – 26th is Library and Information Week 2019, with a theme of Truth, Integrity and Knowledge.
This is a week to celebrate all libraries, but in particular, our College Library.
As a school that understands the priority of teaching literacy skills, and the value of recreational reading for the academic success of all students, the library is a vital resource.
Our school is committed to providing the students, and the whole school community, a library that adds value to their educational experience.
Why is a school library valuable?
"In the face of Australia's falling ranking in educational outcomes among OECD countries and rapidly changing expectations for the future workforce, a coalition of Australian school library associations formed to advocate nationally for the reinvigoration of school libraries. We believe that all children need excellent school library services delivered by qualified staff to learn the digital and information literacy skills required to succeed in the 21st century."
[source: Students Need School Libraries]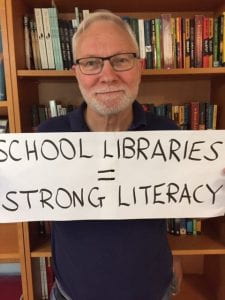 [James Moloney, author]
"Libraries give children opportunity for power, freedom and wisdom. They provide access to information, carefully chosen resources, stories, and help when it is needed. Libraries are for shared learning, for rich deep engagement, collaboration and equal access. Libraries open doors to the next stage of learning, to future careers, and to a better life. Libraries offer the critical link between people of all ages and their learning needs.
The school library staff, services and resources impact the teaching and learning of every student and every teacher. A dynamic, well-resourced school library positively affects every lesson taught because time is saved finding quality resources, high quality assistance is provided through collaborative working relationships, and a thriving culture of reading underpins academic and social health."
[source: Students Need School Libraries]
What does our school library do?
We have books, we have magazines, we are a study space, we are a social space, we are a safe space for all students.
We have board games for students to play, we have a communal jigsaw table to encourage  students to work together to achieve a larger goal.
We have library staff who love reading, talking about reading and everything about books and information.
We are committed to reaching out to the school community via social media, the library blog and Compass to promote all things books, literature and reading.
Our exciting future!
Coming over 2019 we will be introducing a new Library software solution that will make library resources easily accessible for all students and staff.  Ever wished you could search the library catalogue for a specific book?  Well, soon you will be able to do so.  Not just from school but also from home.
Need quality and relevant information to help with that assignment?  Well soon students will have access to curated information put together by library staff available through the library homepage to help.
Want access to ebooks? Well that is coming too.
The investment in new library software shows the school's continuing commitment to proving a dynamic and relevant library service to the whole school community.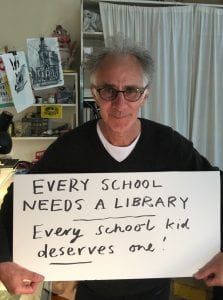 [Leigh Hobbs, author]
If you are a parent or guardian of a student of Forest Hill College, please feel free to come and visit us in the library (we love visitors) and see just what a valuable resource the school provides for our students.