Are you a fan of love triangles?  The eternal question… who will they end up with?
Well, indulge your romantic side with some favorite titles featuring love triangles, available in the library.
History Is All You Left Me by Adam Silvera
When Griffin's first love and ex-boyfriend, Theo, dies in a drowning accident, his universe implodes. Even though Theo had moved to California for college and started seeing Jackson, Griffin never doubted Theo would come back to him when the time was right. But now, the future he's been imagining for himself has gone far off course.
To make things worse, the only person who truly understands his heartache is Jackson. But no matter how much they open up to each other, Griffin's downward spiral continues. He's losing himself in his obsessive compulsions and destructive choices, and the secrets he's been keeping are tearing him apart.
If Griffin is ever to rebuild his future, he must first confront his history, every last heartbreaking piece in the puzzle of his life.
Fallen by Lauren Kate
What if the person you were meant to be with could never be yours?
17-year-old Lucinda falls in love with a gorgeous, intelligent boy, Daniel, at her new school, the grim, foreboding Sword & Cross . . . only to find out that Daniel is a fallen angel, and that they have spent lifetimes finding and losing one another as good & evil forces plot to keep them apart.
Get ready to fall . . .
Twilight by Stephanie Meyer
Are you Team Edward or Team Jacob?
P.S. I Still Love You by Jenny Han
Lara Jean didn't expect to really fall for Peter.
She and Peter were just pretending. Except suddenly they weren't. Now Lara Jean is more confused than ever.
When another boy from her past returns to her life, Lara Jean's feelings for him return too. Can a girl be in love with two boys at once?
The Selection by Kiera Cass
For thirty-five girls, the Selection is the chance of a lifetime. The opportunity to escape the life laid out for them since birth. To be swept up in a world of glittering gowns and priceless jewels. To live in a palace and compete for the heart of gorgeous Prince Maxon.
But for America Singer, being Selected is a nightmare. It means turning her back on her secret love with Aspen, who is a caste below her. Leaving her home to enter a fierce competition for a crown she doesn't want. Living in a palace that is constantly threatened by violent rebel attacks.
Then America meets Prince Maxon. Gradually, she starts to question all the plans she's made for herself—and realizes that the life she's always dreamed of may not compare to a future she never imagined.
An Ember in the Ashes by Sabaa Tahir
Laia is a slave. Elias is a soldier. Neither is free.
Under the Martial Empire, defiance is met with death. Those who do not vow their blood and bodies to the Emperor risk the execution of their loved ones and the destruction of all they hold dear.
It is in this brutal world, inspired by ancient Rome, that Laia lives with her grandparents and older brother. The family ekes out an existence in the Empire's impoverished backstreets. They do not challenge the Empire. They've seen what happens to those who do.
But when Laia's brother is arrested for treason, Laia is forced to make a decision. In exchange for help from rebels who promise to rescue her brother, she will risk her life to spy for them from within the Empire's greatest military academy.
There, Laia meets Elias, the school's finest soldier—and secretly, its most unwilling. Elias wants only to be free of the tyranny he's being trained to enforce. He and Laia will soon realize that their destinies are intertwined—and that their choices will change the fate of the Empire itself.
Hush Hush by Becca Fitzpatrick
A SACRED OATH
A FALLEN ANGEL
A FORBIDDEN LOVE
Romance was not part of Nora Grey's plan. She's never been particularly attracted to the boys at her school, no matter how hard her best friend, Vee, pushes them at her. Not until Patch comes along. With his easy smile and eyes that seem to see inside her, Patch draws Nora to him against her better judgment.
But after a series of terrifying encounters, Nora's not sure whom to trust. Patch seems to be everywhere she is and seems to know more about her than her closest friends. She can't decide whether she should fall into his arms or run and hide. And when she tries to seek some answers, she finds herself near a truth that is way more unsettling than anything Patch makes her feel.
For she is right in the middle of an ancient battle between the immortal and those that have fallen – and, when it comes to choosing sides, the wrong choice will cost Nora her life.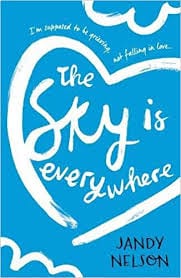 The Sky is Everywhere by Jandy Nelson
Adrift after her sister Bailey's sudden death, Lennie finds herself torn between quiet, seductive Toby—Bailey's boyfriend who shares her grief—and Joe, the new boy in town who bursts with life and musical genius. Each offers Lennie something she desperately needs… though she knows if the two of them collide her whole world will explode.
Join Lennie on this heartbreaking and hilarious journey of profound sorrow and mad love, as she makes colossal mistakes and colossal discoveries, as she traipses through band rooms and forest bedrooms and ultimately right into your heart.
As much a celebration of love as a poignant portrait of loss, Lennie's struggle to sort her own melody out of the noise around her is always honest, often uproarious, and absolutely unforgettable.
Lady Midnight by Cassandra Clare
In a kingdom by the sea…
In a secret world where half-angel warriors are sworn to fight demons, parabatai is a sacred word.
A parabatai is your partner in battle. A parabatai is your best friend. Parabatai can be everything to each other—but they can never fall in love.
Emma Carstairs is a warrior, a Shadowhunter, and the best in her generation. She lives for battle. Shoulder to shoulder with her parabatai, Julian Blackthorn, she patrols the streets of Los Angeles, where vampires party on the Sunset Strip, and faeries—the most powerful of supernatural creatures—teeter on the edge of open war with Shadowhunters. When the bodies of humans and faeries turn up murdered in the same way Emma's parents were when she was a child, an uneasy alliance is formed. This is Emma's chance for revenge—and Julian's chance to get back his brother Mark, who is being held prisoner by the faerie Courts. All Emma, Mark, and Julian have to do is solve the murders within two weeks…and before the murderer targets them.
Their search takes Emma from sea caves full of sorcery to a dark lottery where death is dispensed. And each clue she unravels uncovers more secrets. What has Julian been hiding from her all these years? Why does Shadowhunter Law forbid parabatai to fall in love? Who really killed her parents—and can she bear to know the truth?
A Court of Thorns and Roses by Sarah J. Maas
Feyre's survival rests upon her ability to hunt and kill – the forest where she lives is a cold, bleak place in the long winter months. So when she spots a deer in the forest being pursued by a wolf, she cannot resist fighting it for the flesh. But to do so, she must kill the predator and killing something so precious comes at a price …
Dragged to a magical kingdom for the murder of a faerie, Feyre discovers that her captor, his face obscured by a jewelled mask, is hiding far more than his piercing green eyes would suggest. Feyre's presence at the court is closely guarded, and as she begins to learn why, her feelings for him turn from hostility to passion and the faerie lands become an even more dangerous place. Feyre must fight to break an ancient curse, or she will lose him forever.
Vampire Academy by Richelle Mead
Only a true best friend can protect you from your immortal enemies . . . 
Lissa Dragomir is a Moroi princess: a mortal vampire with a rare gift for harnessing the earth's magic. She must be protected at all times from Strigoi; the fiercest vampires – the ones who never die. The powerful blend of human and vampire blood that flows through Rose Hathaway, Lissa's best friend, makes her a dhampir. Rose is dedicated to a dangerous life of protecting Lissa from the Strigoi, who are hell-bent on making Lissa one of them.
After two years of freedom, Rose and Lissa are caught and dragged back to St. Vladimir's Academy, a school for vampire royalty and their guardians-to-be, hidden in the deep forests of Montana. But inside the iron gates, life is even more fraught with danger . . . and the Strigoi are always close by.
Rose and Lissa must navigate their dangerous world, confront the temptations of forbidden love, and never once let their guard down, lest the evil undead make Lissa one of them forever . . .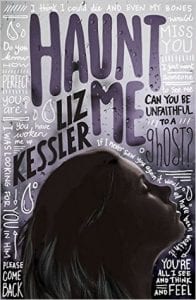 Haunt Me by Liz Kessler
Joe wakes up from a deep sleep to see his family leave in a removals van. Where they've gone, he has no idea. Erin moves house and instantly feels at home in her new room. Even if it appears she isn't the only one living in it. Bit by bit, Erin and Joe discover that they have somehow found a way across the ultimate divide – life and death. Bound by their backgrounds, a love of poetry and their growing feelings for each other, they are determined to find a way to be together.
Joe's brother, Olly, never cared much for poetry. He was always too busy being king of the school – but that all changed when Joe died. And when an encounter in the school corridor brings him face to face with Erin, he realises how different things really are – including the kind of girl he falls for.
Two brothers. Two choices. Will Erin's decision destroy her completely, or can she save herself before she is lost forever?
The Young Elites by Marie Lu
I am tired of being used, hurt, and cast aside.
Adelina Amouteru is a survivor of the blood fever. A decade ago, the deadly illness swept through her nation. Most of the infected perished, while many of the children who survived were left with strange markings. Adelina's black hair turned silver, her lashes went pale, and now she has only a jagged scar where her left eye once was. Her cruel father believes she is a malfetto, an abomination, ruining their family's good name and standing in the way of their fortune. But some of the fever's survivors are rumored to possess more than just scars—they are believed to have mysterious and powerful gifts, and though their identities remain secret, they have come to be called the Young Elites.
Teren Santoro works for the king. As Leader of the Inquisition Axis, it is his job to seek out the Young Elites, to destroy them before they destroy the nation. He believes the Young Elites to be dangerous and vengeful, but it's Teren who may possess the darkest secret of all.
Enzo Valenciano is a member of the Dagger Society. This secret sect of Young Elites seeks out others like them before the Inquisition Axis can. But when the Daggers find Adelina, they discover someone with powers like they've never seen.
Adelina wants to believe Enzo is on her side, and that Teren is the true enemy. But the lives of these three will collide in unexpected ways, as each fights a very different and personal battle. But of one thing they are all certain: Adelina has abilities that shouldn't belong in this world. A vengeful blackness in her heart. And a desire to destroy all who dare to cross her.
It is my turn to use. My turn to hurt.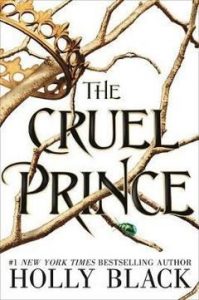 The Cruel Prince by Holly Black
Of course I want to be like them. They're beautiful as blades forged in some divine fire. They will live forever.
And Cardan is even more beautiful than the rest. I hate him more than all the others. I hate him so much that sometimes when I look at him, I can hardly breathe.
Jude was seven when her parents were murdered and she and her two sisters were stolen away to live in the treacherous High Court of Faerie. Ten years later, Jude wants nothing more than to belong there, despite her mortality. But many of the fey despise humans. Especially Prince Cardan, the youngest and wickedest son of the High King.
To win a place at the Court, she must defy him–and face the consequences.
As Jude becomes more deeply embroiled in palace intrigues and deceptions, she discovers her own capacity for trickery and bloodshed. But as betrayal threatens to drown the Courts of Faerie in violence, Jude will need to risk her life in a dangerous alliance to save her sisters, and Faerie itself.
The Hunger Games by Suzanne Collins
Winning will make you famous.
Losing means certain death.
The nation of Panem, formed from a post-apocalyptic North America, is a country that consists of a wealthy Capitol region surrounded by 12 poorer districts. Early in its history, a rebellion led by a 13th district against the Capitol resulted in its destruction and the creation of an annual televised event known as the Hunger Games. In punishment, and as a reminder of the power and grace of the Capitol, each district must yield one boy and one girl between the ages of 12 and 18 through a lottery system to participate in the games. The 'tributes' are chosen during the annual Reaping and are forced to fight to the death, leaving only one survivor to claim victory.
When 16-year-old Katniss's young sister, Prim, is selected as District 12's female representative, Katniss volunteers to take her place. She and her male counterpart Peeta, are pitted against bigger, stronger representatives, some of whom have trained for this their whole lives. , she sees it as a death sentence. But Katniss has been close to death before. For her, survival is second nature.