The lure of the open road.  The freedom of taking one day at a time.  The chance to discover your true self.
All of these things, and more, make road trip stories so enticing.
Take a road trip from the comfort of your couch with one of these great books available in the library.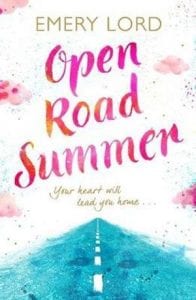 Open Summer Road by Emery Lord
After breaking up with her bad-news boyfriend, Reagan O'Neill is ready to leave her rebellious ways behind. . . and her best friend, country superstar Lilah Montgomery, is nursing a broken heart of her own.
Fortunately, Lilah's 24-city tour is about to kick off, offering a perfect opportunity for a girls-only summer of break-up ballads and healing hearts. But when Matt Finch joins the tour as its opening act, his boy-next-door charm proves difficult for Reagan to resist, despite her vow to live a drama-free existence.
This summer, Reagan and Lilah will navigate the ups and downs of fame and friendship as they come to see that giving your heart to the right person is always a risk worth taking.
The Sisterhood of the Travelling Pants by Ann Brashares
FOUR VERY DIFFERENT FRIENDS. ONE PAIR OF MAGICAL PANTS. AND A SUMMER APART …
We, the Sisterhood, hereby instate the following rules to govern the use of the Traveling Pants:
You must never wash the Pants.
You must never double-cuff the Pants. It's tacky. There will never be a time when this will not be tacky.

You must never say the word "phat" while wearing the Pants. You must also never think "I am fat" while wearing the Pants.

You must never let a boy take off the Pants (although you may take them off yourself in his presence).

You must not pick your nose while wearing the Pants. You may, however, scratch casually at your nostril while really kind of picking.

Upon our reunion, you must follow the proper procedures for documenting your time in the Pants.

You must write to your Sisters throughout the summer, no matter how much fun you are having without them.

You must pass the Pants along to your Sister according to the specifications set down by the Sisterhood. Failures to comply will result in a sever spanking upon our reunion.

You must not wear the Pants with a tucked-in shirt and belt. See rule #2.

Remember: Pants = love. Love your pals. Love yourself.
Mosquitoland by David Arnold
When her parents unexpectedly divorce, Mim Malone is dragged from her beloved home in Ohio to the 'wastelands' of Mississippi, where she lives in a haze of medication with her dad and new (almost certainly evil) stepmom.
But when Mim learns her real mother is ill back home, she escapes her new life and embarks on a rescue mission aboard a Greyhound bus, meeting an assortment of quirky characters along the way. And when her thousand-mile journey takes a few turns she could never see coming, Mim must confront her own demons, redefining her notions of love, loyalty, and what it means to be sane.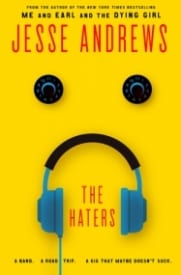 The Haters by Jesse Andrews
For Wes and his best friend, Corey, jazz camp turns out to be lame. It's pretty much all dudes talking in Jazz Voice. But then they jam with Ash, a charismatic girl with an unusual sound, and the three just click. It's three and a half hours of pure musical magic, and Ash makes a decision: They need to hit the road. Because the road, not summer camp, is where bands get good. Before Wes and Corey know it, they're in Ash's SUV heading south, and The Haters Summer of Hate Tour has begun.
Paper Towns by John Green
Who is the real Margo?
Quentin Jacobsen has spent a lifetime loving the magnificently adventurous Margo Roth Spiegelman from afar. So when she cracks open a window and climbs into his life—dressed like a ninja and summoning him for an ingenious campaign of revenge—he follows. After their all-nighter ends, and a new day breaks, Q arrives at school to discover that Margo, always an enigma, has now become a mystery. But Q soon learns that there are clues—and they're for him. Urged down a disconnected path, the closer he gets, the less Q sees the girl he thought he knew…
Just One Day by Gayle Forman
When sheltered American good girl Allyson "LuLu" Healey first meets laid-back Dutch actor Willem De Ruiter at an underground performance of Twelfth Night in England, there's an undeniable spark. After just one day together, that spark bursts into a flame, or so it seems to Allyson, until the following morning, when she wakes up after a whirlwind day in Paris to discover that Willem has left.
Over the next year, Allyson embarks on a journey to come to terms with the narrow confines of her life, and through Shakespeare, travel, and a quest for her almost-true-love, to break free of those confines.
Let's Get Lost by Adi Alsaid
Five strangers. Countless adventures. One epic way to get lost.
Four teens across the country have only one thing in common: a girl named Leila. She crashes into their lives in her absurdly red car at the moment they need someone the most.
Hudson, Bree, Elliot and Sonia find a friend in Leila. And when Leila leaves them, their lives are forever changed. But it is during Leila's own 4,268-mile journey that she discovers the most important truth—sometimes, what you need most is right where you started. And maybe the only way to find what you're looking for is to get lost along the way.
Stranger Than Fanfiction by Chris Colfer
Cash Carter is the young, world famous lead actor of the hit television Wiz Kids. When four fans jokingly invite him on a cross-country road trip, they are shocked that he actually takes them up on it. Chased by paparazzi and hounded by reporters, this unlikely crew takes off on a journey of a lifetime–but along the way they discover that the star they love has deep secrets he's been keeping. What they come to learn about the life of the mysterious person they thought they knew will teach them about the power of empathy and the unbreakable bond of true friendship.
Have Sword Will Travel by Garth Nix & Sean Williams
When Odo and Eleanor stumble upon an ancient sword in a river outside their village, something very unexpected happens… the sword starts to talk! Much to Odo's dismay he discovers that he's awoken a famous enchanted blade called Biter, and thus has instantly become a knight. Eleanor would love to become a knight – but she's not the one with the sword. Unearthing Biter is only the start of their troubles; soon boy, girl and sword must depart on a noble quest to save their kingdom from threats – in both human and dragon form.
Blood Red Road b Moira Young
In a lawless land, where life is cheap and survival is hard, Saba has been brought up in isolated Silverlake. She never sees the dangers of the destructive society outside. When her twin brother is snatched by mysterious black-robed riders, she sets out on an epic quest to rescue him.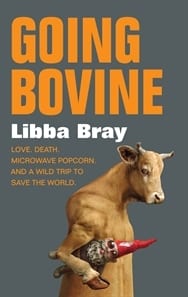 Going Bovine by Libba Bray
Can Cameron find what he's looking for?
All 16-year-old Cameron wants is to get through high school—and life in general—with a minimum of effort. It's not a lot to ask. But that's before he's given some bad news: he's sick and he's going to die. Which totally sucks. Hope arrives in the winged form of Dulcie, a loopy punk angel/possible hallucination with a bad sugar habit. She tells Cam there is a cure—if he's willing to go in search of it. With the help of a death-obsessed, video-gaming dwarf and a yard gnome, Cam sets off on the mother of all road trips through a twisted America into the heart of what matters most.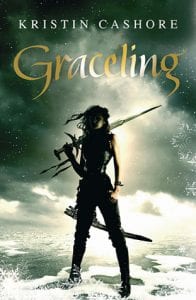 Graceling by Kristin Cashore
In a world where people born with an exceptional skill, known as a Grace, are both feared and exploited, Katsa carries the burden of a skill even she despises: the Grace of killing.
Feared by the court and shunned by those her own age, the darkness of her Grace casts a heavy shadow over Katsa's life. Yet she remains defiant: when the King of Lienid's father is kidnapped she investigates, and stumbles across a mystery. Who would want to kidnap the old man, and why? And who was the extraordinary Graced man whose fighting abilities rivalled her own?
The only thing Katsa is sure of is that she no longer wants to kill. The intrigue around this kidnapping offers her a way out – but little does she realise, when she takes it, that something insidious and dark lurks behind the mystery. Something spreading from the shadowy figure of a one-eyed king…