World Space Week is an international celebration of science and technology, and their contribution to the betterment of the human condition. The United Nations General Assembly declared in 1999 that World Space Week will be held each year from October 4-10.
There are so many great books set in space to help celebrate World Space Week.
Check out these great science fiction reads available in the library (yes, there is more than just Star Wars….):
Ender's Game by Orson Scott Card
Andrew "Ender" Wiggin thinks he is playing computer simulated war games; he is, in fact, engaged in something far more desperate. The result of genetic experimentation, Ender may be the military genius Earth desperately needs in a war against an alien enemy seeking to destroy all human life. The only way to find out is to throw Ender into ever harsher training, to chip away and find the diamond inside, or destroy him utterly. Ender Wiggin is six years old when it begins. He will grow up fast.
These Broken Stars by Amie Kaufman & Meagan Spooner
Luxury spaceliner Icarus suddenly plummets from hyperspace into the nearest planet. Lilac LaRoux and Tarver Merendsen survive – alone. Lilac is the daughter of the richest man in the universe. Tarver comes from nothing, a cynical war hero. Both journey across the eerie deserted terrain for help. Everything changes when they uncover the truth.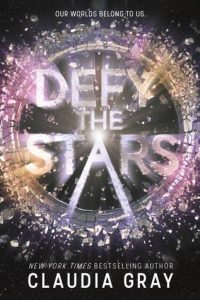 Defy The Stars by Claudia Gray
She's a soldier – Noemi Vidal is willing to risk anything to protect her planet, Genesis, including her own life. To their enemies on Earth, she's a rebel.
He's a machine – Abandoned in space for years, utterly alone, Abel's advanced programming has begun to evolve. He wants only to protect his creator, and to be free. To the people of Genesis, he's an abomination.
Illuminae by Amie Kaufmann & Jay Kristoff
This morning, Kady thought breaking up with Ezra was the hardest thing she'd have to do. This afternoon, her planet was invaded.
The year is 2575, and two rival megacorporations are at war over a planet that's little more than an ice-covered speck at the edge of the universe. Too bad nobody thought to warn the people living on it. With enemy fire raining down on them, Kady and Ezra—who are barely even talking to each other—are forced to fight their way onto an evacuating fleet, with an enemy warship in hot pursuit.
The Diabolic by S.J. Kincaid
Nemesis is a Diabolic. Created to protect a galactic Senator's daughter, Sidonia. There's no one Nemesis wouldn't kill to keep her safe. But when the power-mad Emperor summons Sidonia to the galactic court as a hostage, there is only one way for Nemesis to protect Sidonia.
She must become her.
The Hitchhiker's Guide To The Galaxy by Douglas Adams
The Hitchhiker's Guide to the Galaxy who, for the last fifteen years, has been posing as an out-of-work actor.
Together this dynamic pair begin a journey through space aided by quotes from The Hitchhiker's Guide ("A towel is about the most massively useful thing an interstellar hitchhiker can have") and a galaxy-full of fellow travelers: Zaphod Beeblebrox—the two-headed, three-armed ex-hippie and totally out-to-lunch president of the galaxy; Trillian, Zaphod's girlfriend (formally Tricia McMillan), whom Arthur tried to pick up at a cocktail party once upon a time zone; Marvin, a paranoid, brilliant, and chronically depressed robot; Veet Voojagig, a former graduate student who is obsessed with the disappearance of all the ballpoint pens he bought over the years.
The Loneliest Girl In The Universe by Lauren James
Can you fall in love with someone you've never met, never even spoken to – someone who is light years away?
Romy Silvers is the only surviving crew-member of a spaceship travelling to a new planet, on a mission to establish a second home for humanity amongst the stars. Alone in space, she is the loneliest girl in the universe until she hears about a new ship which has launched from Earth – with a single passenger on board. A boy called J.
Their only communication with each other is via email – and due to the distance between them, their messages take months to transmit across space. And yet Romy finds herself falling in love.
But what does Romy really know about J? And what do the mysterious messages which have started arriving from Earth really mean?
Sometimes, there's something worse than being alone . . .
The Loneliness of Distant Beings by Kate Ling
Even though she knows it's impossible, Seren longs to have the sunshine on her skin. It's something she feels she needs to stay sane. But when you're floating through space at thousands of kilometres an hour, sometimes you have to accept there are things you cannot change.
Except that the arrival of Dom in her life changes everything in ways she can barely comprehend. For a while he becomes the Sun for her; and she can't help but stay in his orbit. Being with him flaunts every rule designed to keep their home in order, but to lose him would be like losing herself.
In the end they must decide what is most important: loyalty to the only home they've ever known, or to each other?