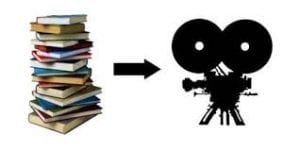 Coming to a screen near you in 2019.
Five Feet Apart by Rachael Lippincott
Can you love someone you can never touch?
Stella Grant likes to be in control—even though her totally out of control lungs have sent her in and out of the hospital most of her life. At this point, what Stella needs to control most is keeping herself away from anyone or anything that might pass along an infection and jeopardize the possibility of a lung transplant. Six feet apart. No exceptions.
The only thing Will Newman wants to be in control of is getting out of this hospital. He couldn't care less about his treatments, or a fancy new clinical drug trial. Soon, he'll turn eighteen and then he'll be able to unplug all these machines and actually go see the world, not just its hospitals.
Will's exactly what Stella needs to stay away from. If he so much as breathes on Stella she could lose her spot on the transplant list. Either one of them could die. The only way to stay alive is to stay apart. But suddenly six feet doesn't feel like safety. It feels like punishment.
What if they could steal back just a little bit of the space their broken lungs have stolen from them? Would five feet apart really be so dangerous if it stops their hearts from breaking too?
The movie, starring Cole Sprout and Haley Lu Richardson, will be released in March 2019.
P.S. I Still Love You by Jenny Han
Lara Jean didn't expect to really fall for Peter.
She and Peter were just pretending. Except suddenly they weren't. Now Lara Jean is more confused than ever.
When another boy from her past returns to her life, Lara Jean's feelings for him return too. Can a girl be in love with two boys at once?
The sequel to the hit Netflix movie, To All The Boys I've Loved Before, has been announced!
Good Omens by Terry Pratchett & Neil Gaiman
'Armageddon only happens once, you know. They don't let you go around again until you get it right'
People have been predicting the end of the world almost from its very beginning, so it's only natural to be sceptical when a new date is set for Judgement Day. But what if, for once, the predictions are right, and the apocalypse really is due to arrive next Saturday, just after tea? You could spend the time left drowning your sorrows, giving away all your possessions in preparation for the rapture, or laughing it off as (hopefully) just another hoax.
Or you could just try to do something about it.
The series based on this book, starring David Tennant and Martin Sheen, will begin airing on Amazon Prime in late May 2019.
The Sun Is Also A Star by Nicola Yoon
A story of a girl, a boy, and the universe
Natasha: I'm a girl who believes in science and facts. Not fate. Not destiny. Or dreams that will never come true. I'm definitely not the kind of girl who meets a cute boy on a crowded New York City street and falls in love with him. Not when my family is twelve hours away from being deported to Jamaica. Falling in love with him won't be my story.
Daniel: I've always been the good son, the good student, living up to my parents' high expectations. Never the poet. Or the dreamer. But when I see her, I forget about all that. Something about Natasha makes me think that fate has something much more extraordinary in store—for both of us.
The Universe: Every moment in our lives has brought us to this single moment. A million futures lie before us. Which one will come true?
The movie, starring Charles Melton and Yara Shahidi, is due to be released in May 2019.
All The Bright Places by Jennifer Niven
Theodore Finch is fascinated by death, and he constantly thinks of ways he might kill himself. But each time, something good, no matter how small, stops him.
Violet Markey lives for the future, counting the days until graduation, when she can escape her Indiana town and her aching grief in the wake of her sister's recent death.
When Finch and Violet meet on the ledge of the bell tower at school, it's unclear who saves whom. And when they pair up on a project to discover the 'natural wonders' of their state, both Finch and Violet make more important discoveries: It's only with Violet that Finch can be himself – a weird, funny, live-out-loud guy who's not such a freak after all. And it's only with Finch that Violet can forget to count away the days and start living them. But as Violet's world grows, Finch's begins to shrink.
The movie, starring Ellie Fanning and Justice Smith, is due to be released in 2019.
Artemis Fowl by Eoin Colfer
Twelve-year-old villain, Artemis Fowl, is the most ingenious criminal mastermind in history. His bold and daring plan is to hold a leprechaun to ransom. But he's taking on more than he bargained for when he kidnaps Captain Holly Short of the LEPrecon (Lower Elements Police Reconnaissance Unit). For a start, leprechaun technology is more advanced than our own. Add to that the fact that Holly is a true heroine and that her senior officer Commander Root will stop at nothing to get her back and you've got the mother of all sieges brewing!
The movie, starring Ferdia Shaw, Judi Dench and Josh Gad, is due for release in August 2019.
The Knife Of Never Letting Go by Patrick Ness
Todd Hewitt is the only boy in a town of men. Ever since the settlers were infected with the Noise germ, Todd can hear everything the men think, and they hear everything he thinks. Todd is just a month away from becoming a man, but in the midst of the cacophony, he knows that the town is hiding something from him — something so awful Todd is forced to flee with only his dog, whose simple, loyal voice he hears too. With hostile men from the town in pursuit, the two stumble upon a strange and eerily silent creature: a girl. Who is she? Why wasn't she killed by the germ like all the females on New World? Propelled by Todd's gritty narration, readers are in for a white-knuckle journey in which a boy on the cusp of manhood must unlearn everything he knows in order to figure out who he truly is.
The movie, Chaos Walking, based on The Knife Of Never Letting Go, will star Tom Holland, Daisey Ridley and Nick Jonas.  It is due for release later in 2019.
Little Women by Louise May Alcott
Meg, Jo, Amy, and Beth–four "little women" enduring hardships and enjoying adventures in Civil War New England
The charming story of the March sisters, Little Women has been adored for generations. Readers have rooted for Laurie in his pursuit of Jo's hand, cried over little Beth's untimely death, and dreamed of traveling through Europe with old Aunt March and Amy.
The movie, starring Emma Watson, Timothee Chalamet, Meryl Streep and Saoirse Ronan, is due to be released late 2019
Catch-22 by Joseph Heller
Set in the closing months of World War II in an American bomber squadron off the coast of Italy, Catch-22 is the story of a bombardier named Yossarian who is frantic and furious because thousands of people he has never even met keep trying to kill him. Joseph Heller's bestselling novel is a hilarious and tragic satire on military madness, and the tale of one man's efforts to survive it.
This mini-series, starring Christopher Abbot, Kyle Chandler and George Clooney, will air later this year.
The Call Of The Wild by Jack London

Life is good for Buck in Santa Clara Valley, where he spends his days eating and sleeping in the golden sunshine. But one day a treacherous act of betrayal leads to his kidnap, and he is forced into a life of toil and danger. Dragged away to be a sledge dog in the harsh and freezing cold Yukon, Buck must fight for his survivial. Can he rise above his enemies and become the master of his realm once again?
The movie, starring Harrison Ford, Karen Gillan and Omar Sy, is due for release late 2019.
The Passage by Justin Cronin
IT HAPPENED FAST.
THIRTY-TWO MINUTES FOR ONE WORLD TO DIE, ANOTHER TO BE BORN.
First, the unthinkable: a security breach at a secret U.S. government facility unleashes the monstrous product of a chilling military experiment. Then, the unspeakable: a night of chaos and carnage gives way to sunrise on a nation, and ultimately a world, forever altered. All that remains for the stunned survivors is the long fight ahead and a future ruled by fear–of darkness, of death, of a fate far worse.
As civilization swiftly crumbles into a primal landscape of predators and prey, two people flee in search of sanctuary. FBI agent Brad Wolgast is a good man haunted by what he's done in the line of duty. Six-year-old orphan Amy Harper Bellafonte is a refugee from the doomed scientific project that has triggered apocalypse. Wolgast is determined to protect her from the horror set loose by her captors, but for Amy, escaping the bloody fallout is only the beginning of a much longer odyssey–spanning miles and decades–toward the time an place where she must finish what should never have begun.
The TV series based on this book, starring Mark-Paul Gosselaar, Sanuyya Sidney and Jamie McShane, will hopefully air in Australia soon.
The Woman In The Window by A. J. Finn
Anna Fox lives alone—a recluse in her New York City home, unable to venture outside. She spends her day drinking wine (maybe too much), watching old movies, recalling happier times . . . and spying on her neighbors.
Then the Russells move into the house across the way: a father, a mother, their teenage son. The perfect family. But when Anna, gazing out her window one night, sees something she shouldn't, her world begins to crumble—and its shocking secrets are laid bare.
What is real? What is imagined? Who is in danger? Who is in control? In this diabolically gripping thriller, no one—and nothing—is what it seems.
The movie, starring Amy Adams, Julianne Moore, Wyatt Russell and Gary Oldman, is due for release in October 2019.