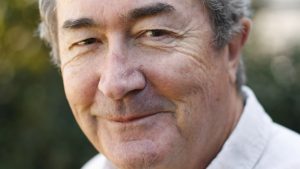 "John Flanagan grew up in Sydney, Australia hoping to be a writer. It wasn't until he wrote a highly uncomplimentary poem about a senior executive at the agency where he worked, however, that his talent was revealed. It turned out one of the company directors agreed with John's assessment of the executive, and happily agreed to train John in copywriting.
After writing advertising copy for the next two decades, John teamed with an old friend to develop a television sitcom, Hey Dad!, which went on to air for eight years.
John Flanagan's bestselling Ranger's Apprentice adventure series originally comprised twenty short stories, which John wrote to encourage his twelve-year-old son, Michael, to enjoy reading. Michael was a small boy, and all his friends were bigger and stronger than he was. John wanted to show him that reading was fun, and heroes weren't necessarily big and muscular. Now in his mid-twenties, Michael is six feet tall, broad-shouldered and powerful – but he still loves The Ranger's Apprentice.
The series has come a long way since then. Now sold to eighteen countries, the series has appeared on the New York Times Best Sellers List and is regularly shortlisted in children's book awards in Australia and overseas.
John lives with his wife, Leonie, in the Sydney beachside suburb of Manly. He is currently writing further titles in the Ranger's Apprentice series. In addition to their son, they have two grown daughters and four grandsons."
Books available in the library by John Flanagan:
Ranger's Apprentice series:
The Ruins of Gorlan
The Burning Bridge
The Icebound Land
Oakleaf Bearers
The Sorcerer in the North
The Seige of Macindaw
Erik's Ransome
The Kings of Clonmel
Halt's Peril
The Emperor of Nihon-ja
The Lost Stories
The Royal Ranger
The Brotherband Chronicles series:
The Outcasts
The Invaders
The Hunters
Slaves of Socorro
Scorpion Mountain
The Ghostfaces
For more information on John Flannagan visit his website:
John Flannagan's Official Website