So everyone keeps telling us that reading is good to reduce stress.  So why are so many people having trouble reading during periods of lockdown for Covid-19?
We have all this extra time on our hands since we have to stay at home, surely reading is a great way to pass some time?  Reading is meant to make us less stressed.
But remember, we are all going through extremely stressful times, with little certainty from day to day.  Most people's anxiety levels are increased the moment, even if they don't usually suffer from anxiety.
But this inability to spend time doing even enjoyable activities such as reading is to be expected, according to Shyam Bhat, a Bengaluru-based psychiatrist and physician.
"Anxiety reduces one's ability to read and focus, and those without a well-established reading habit may find it hard to keep up with reading,"
But more alarmingly, he adds,
"This inability to read, in turn, can be detrimental to their mental health."
For many of us, our brains are in a heightened state fight-or-flight, which can trigger anxiety and as a consequence of that is a lack of focus that is required for tasks such as reading.
Alyssa Williamson, a Texas-based psychotherapist, specialising in trauma, says that "
"…The body no longer believes you're safe, no matter how well you know that cognitively."
What seems to be the most common activity for many people during lockdown is be streaming TV and online content.  It is easy to just sit in front of a screen and binge on whatever the latest Netflix series is suggested for you.  As Shyam Bhat explains, "There is a tendency to consume media such as shows on digital platforms because they are more passive and you don't have to engage your brain in the same way you do when you read."
But this can start a cycle that just ends up stressing us out more.  You watch TV because you are stressed, but watching too much TV can actually increase our stress levels.  Watching a content on a screen engages your brain in a different way to reading.
Now, I am definitely not telling you that you shouldn't be watching TV, but I do think there is value in also making time for reading.
However, this may take a little be of effort and commitment.
Here are some ideas to get you going:
Don't read a book that is going to increase your levels of anxiety.  Find something to read that you are going to enjoy, not what you think you should be reading.  Don't fancy reading the latest dystopian thriller that everyone on social media is raving about, pick something else.  If reading a magazine on sport relaxes you – go for it. Read something is going to give you pleasure.
Don't feel you need to finish every book you start.  If you aren't engaged by the story a few chapters in, put it down and find something else.  Your relaxation time is too valuable to read something you don't enjoy it.
Maybe it's time to pick up an old favorite.  Re-reading a book you loved can be a rewarding experience.
Make reading a habit.  Maybe put aside 15 minutes each day for reading.  Start reading before bed or when you wake up.  Find a time that works for you.
Find a tribe.  Admittedly, at the moment that will probably need to be online, but connecting with others who like to read the same sorts of things as you can add to your enjoyment and can help broaden your reading horizons.
Start a family book club.  You don't even need to be reading the same book.  Just put aside some time to get together (either physically or virtually) and talk about what you are reading.
The school library is open even 24/7.  At any time of the day or night you are able to log in to the library catalog and browse available books.  Have a sibling who is at school?  Then log in to the library catalog and reserve any  book you would like to borrow and get them to come and collect it for you from the library.
How do you log in to the library catalog?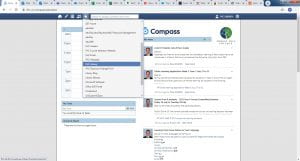 Go to the Favourites menu of Compass (the * option) and choose "FHC Library" from the menu.
Choose "Login" at the top-right of the screen.
Your username will be your Compass id and your password will also be your Compass id.
For example:
If your Compass id is ABC0001 then use ABC0001 for the username and ABC0001 for the password.
If you haven't logged on to the library catalog before, then watch this short video on how to navigate around the library catalog.
Follow this link for a short video with  instructions on How to Reserve a library book.
Don't forget you also have access to ebooks and audiobooks through the school library.  Follow this link for instructions on how to access.
Have questions?  Contact the library on library@fhc.vic.edu.au and we will help in any way we can.
[source: "Having trouble reading during lockdown?  Here's how to overcome it", by Manavi Kapur, qz.com, June 1st, 2020]