Harmony Week celebrates Australia's cultural diversity.
It is a time to celebrate Australian multiculturalism, and the successful integration of migrants into our community.
Australia is one of the most successful multicultural countries in the world and we should celebrate this and work to maintain it.
Harmony Week is about inclusiveness, respect and belonging for all Australians, regardless of cultural or linguistic background, united by a set of core Australian values.
In this week, with the tragedies of mass shootings in New Zealand and Holland, the meaning of Harmony Week is more important than ever.
Orange is the colour chosen to represent Harmony Week. Traditionally, orange signifies social communication and meaningful conversations. It also relates to the freedom of ideas and encouragement of mutual respect. Australians can choose to wear something orange during 17-23 March to show their support for cultural diversity and an inclusive Australia.
Our cultural diversity
Australia is a vibrant and multicultural country — from the oldest continuous culture of our first Australians to the cultures of our newest arrivals from around the world.
Our cultural diversity is one of our greatest strengths and is at the heart of who we are. It makes Australia a great place to live.
An integrated multicultural Australia is an integral part of our national identity. All people who migrate to Australia bring with them some of their own cultural and religious traditions, as well as taking on many new traditions. Collectively, these traditions have enriched our nation.
Facts and figures
There are some fascinating statistics about Australia's diversity that can be good conversation-starters: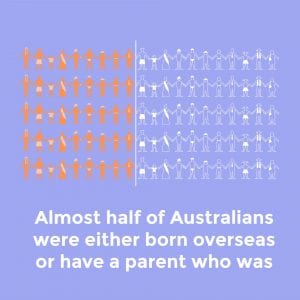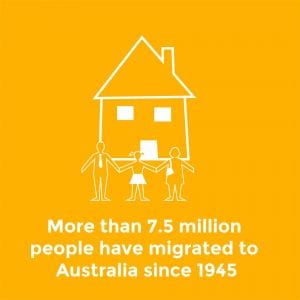 85 per cent of Australians agree multiculturalism has been good for Australia
apart from English, the most common languages spoken in Australia are Mandarin, Arabic, Cantonese, Vietnamese, Italian, Greek, Tagalog/Filipino, Hindi, Spanish and Punjabi
more than 70 Indigenous languages are spoken in Australia.
These facts are taken from ABS 2016 Census Data. Check out the Australian Bureau of Statistics website.
[all images and facts are from the Australian Government Harmony Week website]
In the publishing industry, particularly in the Young Adult publishing industry, the call for diversity in books has been gaining momentum rapidly. In particular, #OWNVOICES, where the author shares a diverse, minority, or marginalized trait with their protagonist, is growing in importance.
The value of diversity in our storytelling as a community is huge.  Stories can help create empathy and foster an understanding of how others experience life, discrimination and hardships, can open our minds to the beauty in other cultures and can help you feel that you are not alone in your experiences.  Not all heroes or villians look or think the same and diversity in storytelling broadens our minds and makes us all richer.
Books that celebrate cultural diversity that are available in the library include:
Growing up Muslim in Australia by Amra Pajalic & Demet Divaroren
Muslim people in Australia come from over seventy countries and represent a wide variety of cultural backgrounds and experiences. Yet we are constantly bombarded by media stories feeding one negative stereotype. What is it really like to grow up Muslim in Australia? In this book, famous and not-so-famous Muslim-Australians tell their stories in their own voices.
The beard, the hijab, the migrant – these are all familiar images associated with Muslim people. But delve deeper and there are many other stories: the young female boxer entering the ring for her first professional bout; a ten-year-old boy who renounces religion; a young woman struggling to reconcile her sexual identity with her faith. These honest and heartfelt stories will resonate with all readers, providing different snapshots of Muslim life in Australia, dispelling myths and stereotypes, and above all celebrating diversity, achievement, courage and determination.
With stories by Randa Abdel-Fattah, Arwa Abousamra, Michael Mohammed Ahmad, Tanveer Ahmed, Ali Alizadeh, Amal Awad, Tasneem Chopra, Hazem El Masri, Bianca Elmir, Sabrina Houssami-Richardson, Alyena Mohummadally and Irfan Yusuf.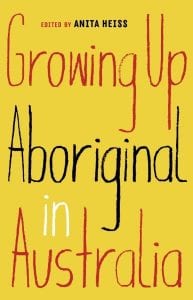 Growing up Aboriginal in Australia edited by Anita Heiss
This anthology, compiled by award-winning author Anita Heiss, showcases many diverse voices, experiences and stories in order to answer that question. Accounts from well-known authors and high-profile identities sit alongside those from newly discovered writers of all ages. All of the contributors speak from the heart sometimes calling for empathy, oftentimes challenging stereotypes, always demanding respect.
Growing up Asian in Australia edited by Alice Pung
Asian-Australians have often been written about by outsiders, as outsiders. In this collection, compiled by award-winning author Alice Pung, they tell their own stories with verve, courage and a large dose of humour. These are not predictable tales of food, festivals and traditional dress. The food is here in all its steaming glory – but listen more closely to the dinner-table chatter and you might be surprised by what you hear.
Here are tales of leaving home, falling in love, coming out and finding one's feet. A young Cindy Pan vows to win every single category of Nobel Prize. Tony Ayres blows a kiss to a skinhead and lives to tell the tale. Benjamin Law has a close encounter with some angry Australian fauna, and Kylie Kwong makes a moving pilgrimage to her great-grandfather's Chinese village.
Here are well-known authors and exciting new voices, spanning several generations and drawn from all over Australia. In sharing their stories, they show us what it is really like to grow up Asian, and Australian.
Contributors include: Shaun Tan, Jason Yat-Sen Li, John So, Annette Shun Wah, Quan Yeomans, Jenny Kee, Anh Do, Khoa Do, Caroline Tran and many more
A very large expanse of sea by Tahereh Mafi
It's 2002, a year after 9/11. It's an extremely turbulent time politically, but especially so for someone like Shirin, a sixteen-year-old Muslim girl who's tired of being stereotyped.
Shirin is never surprised by how horrible people can be. She's tired of the rude stares, the degrading comments—even the physical violence—she endures as a result of her race, her religion, and the hijab she wears every day. So she's built up protective walls and refuses to let anyone close enough to hurt her. Instead, she drowns her frustrations in music and spends her afternoons break-dancing with her brother.
But then she meets Ocean James. He's the first person in forever who really seems to want to get to know Shirin. It terrifies her—they seem to come from two irreconcilable worlds—and Shirin has had her guard up for so long that she's not sure she'll ever be able to let it down.
Love, hate & other filters by Samira Ahmed
A searing #OwnVoices coming-of-age debut in which an Indian-American Muslim teen confronts Islamophobia and a reality she can neither explain nor escape—perfect for fans of Angie Thomas, Jacqueline Woodson, and Adam Silvera.
American-born seventeen-year-old Maya Aziz is torn between worlds. There's the proper one her parents expect for their good Indian daughter: attending a college close to their suburban Chicago home, and being paired off with an older Muslim boy her mom deems "suitable." And then there is the world of her dreams: going to film school and living in New York City—and maybe (just maybe) pursuing a boy she's known from afar since grade school, a boy who's finally falling into her orbit at school.
There's also the real world, beyond Maya's control. In the aftermath of a horrific crime perpetrated hundreds of miles away, her life is turned upside down. The community she's known since birth becomes unrecognizable; neighbors and classmates alike are consumed with fear, bigotry, and hatred. Ultimately, Maya must find the strength within to determine where she truly belongs.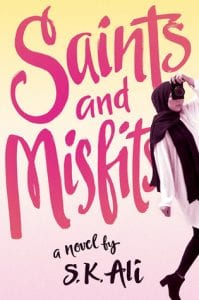 Saints and misfits by S.K. Ali
8 Hours and 5 Minutes
There are three kinds of people in my world:
Saints, those special people moving the world forward. Sometimes you glaze over them. Or, at least, I do. They're in your face so much, you can't see them, like how you can't see your nose.
Misfits, people who don't belong. Like me—the way I don't fit into Dad's brand-new family or in the leftover one composed of Mom and my older brother, Mama's-Boy-Muhammad.
Also, there's Jeremy and me. Misfits. Because although, alliteratively speaking, Janna and Jeremy sound good together, we don't go together. Same planet, different worlds.
But sometimes worlds collide and beautiful things happen, right?
Monsters. Well, monsters wearing saint masks, like in Flannery O'Connor's stories.
Like the monster at my mosque.
People think he's holy, untouchable, but nobody has seen under the mask.
Except me.
The hate u give by Angie Thomas
Sixteen-year-old Starr Carter moves between two worlds: the poor neighborhood where she lives and the fancy suburban prep school she attends. The uneasy balance between these worlds is shattered when Starr witnesses the fatal shooting of her childhood best friend Khalil at the hands of a police officer. Khalil was unarmed.
Soon afterward, his death is a national headline. Some are calling him a thug, maybe even a drug dealer and a gangbanger. Protesters are taking to the streets in Khalil's name. Some cops and the local drug lord try to intimidate Starr and her family. What everyone wants to know is: what really went down that night? And the only person alive who can answer that is Starr.
But what Starr does—or does not—say could upend her community. It could also endanger her life.
On the come up by Angie Thomas
Sixteen-year-old Bri wants to be one of the greatest rappers of all time. Or at least make it out of her neighborhood one day. As the daughter of an underground rap legend who died before he hit big, Bri's got big shoes to fill. But now that her mom has unexpectedly lost her job, food banks and shutoff notices are as much a part of Bri's life as beats and rhymes. With bills piling up and homelessness staring her family down, Bri no longer just wants to make it—she has to make it.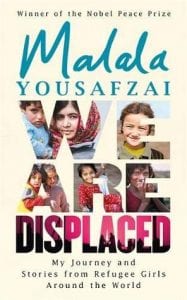 We are displaced : my journey and stories from refugee girls around the world by Malala Yousafzai
Nobel Peace Prize-winner Malala Yousafzai will start with her own story of displacement as an Internally Displaced Person to show what it means to lose your home, your community, and the only world you've ever known. She will also share the personal stories of some of the girls she has met on her various journeys to refugee camps and the cities where refugee girls and their families have settled.
In a time of immigration crises, war, and border conflicts, We Are Displaced is a reminder from one of the world's most famous people who experienced displacement that everyone deserves universal human rights and a home.
You must be Layla by Yassmin Abdel-Magied
"With her long skirt and headscarf Layla certainly stands out at her new high school. Everyone thinks they know her, just from a glance. But do they? And does Layla really know herself?"
Layla's mind goes a million miles a minute, so does her mouth – unfortunately her better judgement can take a while to catch up! Although she believes she was justified for doing what she did, a suspension certainly isn't the way she would have wished to begin her time at her fancy new high school. Despite the setback, Layla's determined to show everyone that she does deserve her scholarship and sets her sights on winning a big invention competition. But where to begin?
Looking outside and in, Layla will need to come to terms with who she is and who she wants to be if she has any chance of succeeding.
The sun is also a star by Nicola Yoon
Natasha: I'm a girl who believes in science and facts. Not fate. Not destiny. Or dreams that will never come true. I'm definitely not the kind of girl who meets a cute boy on a crowded New York City street and falls in love with him. Not when my family is twelve hours away from being deported to Jamaica. Falling in love with him won't be my story.
Daniel: I've always been the good son, the good student, living up to my parents' high expectations. Never the poet. Or the dreamer. But when I see her, I forget about all that. Something about Natasha makes me think that fate has something much more extraordinary in store—for both of us.
The Universe: Every moment in our lives has brought us to this single moment. A million futures lie before us. Which one will come true?
Flame in the mist by Renee Adhieh
The only daughter of a prominent samurai, Mariko has always known she'd been raised for one purpose and one purpose only: to marry. Never mind her cunning, which rivals that of her twin brother, Kenshin, or her skills as an accomplished alchemist. Since Mariko was not born a boy, her fate was sealed the moment she drew her first breath.
So, at just seventeen years old, Mariko is sent to the imperial palace to meet her betrothed, a man she did not choose, for the very first time. But the journey is cut short when Mariko's convoy is viciously attacked by the Black Clan, a dangerous group of bandits who've been hired to kill Mariko before she reaches the palace.
The lone survivor, Mariko narrowly escapes to the woods, where she plots her revenge. Dressed as a peasant boy, she sets out to infiltrate the Black Clan and hunt down those responsible for the target on her back. Once she's within their ranks, though, Mariko finds for the first time she's appreciated for her intellect and abilities. She even finds herself falling in love—a love that will force her to question everything she's ever known about her family, her purpose, and her deepest desires.
Rebel with a cupcake by Anna Mainwaring
Jesobel Jones is bold and brash, the daughter of a hand model and a washed-up rock star. Jess sees no need to apologize for her rambling house, her imperfect family, her single status … or her weight. Jess is who she is. She makes her own cupcakes and she eats them, too. No regrets.
That is, until Own Clothes Day rolls around at school. Jess and her friends dedicate the requisite hours of planning to their outfits, their hair and their makeup for the one day they are free from school uniforms. But a wardrobe malfunction leaves Jess with a pair of leggings split open at the worst spot, and a mean girl calling her the one thing that's never bothered her before: fat.
The encounter shakes Jess's formerly iron-clad confidence, and she starts to wonder if she's been just a little too comfortable in her own skin. When the boy of her dreams invites her to a party, she must decide whether to try to fit in for the first time in her life, or remain true to herself — whoever that really is.
History is all you left me by Adam Silvera
When Griffin's first love and ex-boyfriend, Theo, dies in a drowning accident, his universe implodes. Even though Theo had moved to California for college and started seeing Jackson, Griffin never doubted Theo would come back to him when the time was right. But now, the future he's been imagining for himself has gone far off course.
To make things worse, the only person who truly understands his heartache is Jackson. But no matter how much they open up to each other, Griffin's downward spiral continues. He's losing himself in his obsessive compulsions and destructive choices, and the secrets he's been keeping are tearing him apart.
If Griffin is ever to rebuild his future, he must first confront his history, every last heartbreaking piece in the puzzle of his life.