My hand, which is following a stray pencil rolling across the floor, stops dead right in front of two ratty green sneakers.
My gaze follows the shoes up over long legs to a towering figure.
I stand abruptly.
Tall, black eyes, messy hair, a permanent scowl on a permanently angry face. Our school's delinquent, a waster, the kind of boy who always sits at the back of class. The kind of boy even popular people like Sophia are afraid of.
Teddy Taualai.
Alice Dyson knows exactly how she'll be spending her final year of high school. With her head down, quietly concentrating on her textbooks and homework. She's focused on the future, and nothing and no one is going to get in her way. Until a bizarre encounter with the school's most notorious troublemaker derails all her plans, turning Alice into the unwilling centre of attention and her life into one enormous complication.
And even worse? Now Teddy Taualai won't leave her alone.
This is an story with endearing characters and a lot of heart.  A story of friendships, growing up and first loves.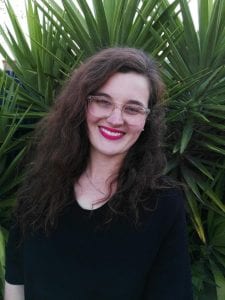 Learn more about the author, Poppy Nwosu, on her website.