Friday March 15th is the National Day of Action Against Bullying and Violence.
The 2019 National Day of Action against Bullying and Violence (NDA) has a new theme: Bullying. No Way! Take action every day.
Bullying is an ongoing and deliberate misuse of power in relationships through repeated verbal, physical and/or social behaviour that intends to cause physical, social and/or psychological harm. It can involve an individual or a group misusing their power, or perceived power, over one or more persons who feel unable to stop it from happening.
Bullying can happen in person or online, via various digital platforms and devices and it can be obvious (overt) or hidden (covert). Bullying behaviour is repeated, or has the potential to be repeated, over time (for example, through sharing of digital records)
Bullying of any form or for any reason can have immediate, medium and long-term effects on those involved, including bystanders. Single incidents and conflict or fights between equals, whether in person or online, are not defined as bullying.
Read more about the National Day of Action Against Bullying and Violence here.
In an article on The Atlantic website, by Jen Doll, "Can Books Solve the Bullying Problem?", the author states…
"Y.A. writers tend to be very good at addressing issues that impact kids now, and one of the great, important features of books in the category is to give readers a chance to figure out how they feel and to learn from experiences one hopes they don't have to face in real life. If they do confront bullying, the goal is, they'll know how to deal with it, take comfort in knowing they're not alone, and maybe, someday, the surge in bullying itself could be quelled by the information and empathy the books serve to share."
Many YA authors say that books helped save their lives during the difficult teen years.  At Forest Hill College, the library strives to be a safe place for all students and we certainly believe in the power of books.
So if you are looking for a book to help you through difficult times, whether fiction or non-fiction, the library has many books available and the library staff are always happy to speak to anyone and recommend something appropriate.
Non-Fiction:
To This Day by Shane Koyczan
I'm not the only kid who grew up this way surrounded by people who used to say that rhyme about sticks and stones as if broken bones hurt more than the names we got called. Now a dazzling illustrated book featuring the work of thirty artists from around the world, To This Day is a powerful expression of the lasting effects of bullying, and the inner strength that allows people to move beyond it. With a heartfelt personal preface by Shane, this extraordinary poem will resonate with anyone who has experienced bullying, whether as a victim, observer or participant.
Cyber bullying by Heather E. Schwartz
If a classmate sends threatening e-mails to you, do you know what to do? Don't worry if you don't. This book is here to help! Learn tech-savvy ways to keep bullies out of your technology without taking away all the fun!
Bullied : what every parent, teacher and kid needs to know about ending the cycle of fear by Carrie Goldman
The mother of a bullied first grader, popular blogger Carrie Goldman's inspiring true story triggered an outpouring of support from online communities around the world. In Bullied, she gives us a guide to the crucial lessons and actionable guidance she's learned about how to stop bullying before it starts. It is a book born from Goldman's post about the ridicule her daughter suffered for bringing a Star Wars thermos to school—a story that went viral on Facebook and Twitter before exploding everywhere, from CNN.com and Yahoo.com to sites all around the world. Written in Goldman's warm, engaging style, Bullied is an important and very necessary read for parents, educators, self-professed "Girl Geeks," or anyone who has ever felt victimized by a bully, online or in person.
The survival guide to bullying by Aija Mayrock
Written by a teenager who was bullied throughout middle school and high school, this kid-friendly book offers a fresh and relatable perspective on bullying. Along the way, the author offers guidance as well as different strategies that helped her get through even the toughest of days.
The Survival Guide to Bullying covers everything from cyber bullying to how to deal with fear and how to create the life you dream of having. From inspiring "roems" (rap poems), survival tips, personal stories, and quick quizzes, this book will light the way to a brighter future.
Teen Issues : bullying
Have you ever been bullied or are you a bully?
Do you know the difference between teasing and taunting?
Are girls and boys equally capable of being bullies?
Imagine walking around with a knot of fear in your stomach each and every day. That's how many victims of bullying feel. Some may even be driven to take their own lives. So, is bullying normal? This book shows how you can understand and deal with the bullying that occurs every day in streets, schools, and online.
Fiction: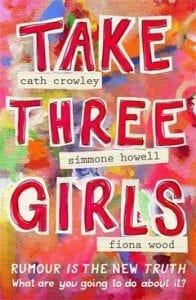 Take Three Girls by Cath Crowley, Simmone Howell & Fiona Wood
Ady – not the confident A-Lister she appears to be.
Kate – brainy boarder taking risks to pursue the music she loves.
Clem – disenchanted swim-star losing her heart to the wrong boy.
All are targeted by PSST, a toxic website that deals in gossip and lies. St Hilda's antidote to the cyber-bullying? The Year 10 Wellness program. Nice try – but sometimes all it takes is three girls.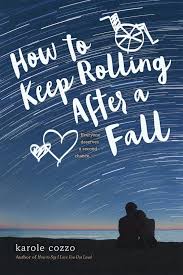 How to keep rolling after a fall by Karole Cozzo
After a cyber bullying incident turns her life upside down, a handsome wheelchair rugby player shows a former mean girl that everyone deserves a second chance.
The party was at her house. The photos were posted to her Facebook account. That's all the evidence anyone needed to condemn Nikki Baylor for a cyberbullying incident that humiliated a classmate and nearly resulted in the girl's suicide. Now Nikki's been expelled from her old school, her friends have abandoned her, and even her own parents can't look her in the eye. With her plans for the future all but destroyed, Nikki resigns herself to being the girl everyone hates – almost as much as she hates herself. But then Nikki meets Pax, a spirited wheelchair rugby player who knows what it's like when one mistake completely shatters your life. Refusing to judge her because of her past, he shows her that everyone deserves a second chance… and everyone deserves to be loved.
Fish in a tree by Lynda Mullaly Hunt
"Everybody is smart in different ways. But if you judge a fish by its ability to climb a tree, it will live its life believing it is stupid."
Ally has been smart enough to fool a lot of smart people. Every time she lands in a new school, she is able to hide her inability to read by creating clever yet disruptive distractions.  She is afraid to ask for help; after all, how can you cure dumb? However, her newest teacher Mr. Daniels sees the bright, creative kid underneath the trouble maker. With his help, Ally learns not to be so hard on herself and that dyslexia is nothing to be ashamed of. As her confidence grows, Ally feels free to be herself and the world starts opening up with possibilities. She discovers that there's a lot more to her—and to everyone—than a label, and that great minds don't always think alike.
Tiny pretty things by Sona Charaipotra & Dhonielle Clayton
Gigi, Bette, and June, three top students at an exclusive Manhattan ballet school, have seen their fair share of drama. Free-spirited new girl Gigi just wants to dance—but the very act might kill her. Privileged New Yorker Bette's desire to escape the shadow of her ballet-star sister brings out a dangerous edge in her. And perfectionist June needs to land a lead role this year or her controlling mother will put an end to her dancing dreams forever.
When every dancer is both friend and foe, the girls will sacrifice, manipulate, and backstab to be the best of the best.
Star girl by Jerry Spinelli
She's a magical as the desert sky.  As mysterious as her own name.  From the day she arrives in a burst of sunshine, people notice her.  People remember her.  She captures Leo's heart with just one smile. Everyone is enchanted.
At first.
Then they turn on her.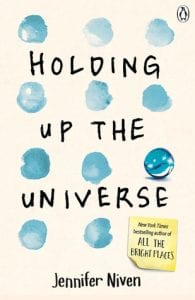 Holding up the universe by Jennifer Niven
Everyone thinks they know Libby Strout, the girl once dubbed 'America's Fattest Teen'. But no one's taken the time to look past her weight to get to see who she really is. Since her mum's death, she's been picking up the pieces in the privacy of her home, dealing with her heartbroken father and her own grief. Now, Libby's ready: for high school, for new friends, for love, and for EVERY POSSIBILITY LIFE HAS TO OFFER. I know the part I want to play here at MVB High. I want to be the girl who can do anything.
Everyone thinks they know Jack Masselin too. Yes, he's got swagger, but he's also mastered the art of fitting in. What no one knows is that Jack has a secret: he can't recognize faces. Even his own brothers are strangers to him. He's the guy who can re-engineer and rebuild anything, but he can't understand what's going on with the inner workings of his own brain. So he tells himself to play it cool: Be charming. Be hilarious. Don't get too close to anyone.
Until he meets Libby. When the two get tangled up in a cruel high school game which lands them in group counseling, Libby and Jack are both angry, and then surprised. Because the more time they spend together, the less alone they feel. Because sometimes when you meet someone, it changes the world – theirs and yours.
13 reasons why by Jay Asher
Awkward by Svetlana Chmakova
Cardinal rule #1 for surviving school: Don't get noticed by the mean kids.
Cardinal rule #2 for surviving school: Seek out groups with similar interests and join them.
On her first day at her new school, Penelope–Peppi–Torres reminds herself of these basics. But when she trips into a quiet boy in the hall, Jaime Thompson, she's already broken the first rule, and the mean kids start calling her the "nerder girlfriend." How does she handle this crisis? By shoving poor Jaime and running away!
Falling back on rule two and surrounding herself with new friends in the art club, Peppi still can't help feeling ashamed about the way she treated Jaime. Things are already awkward enough between the two, but to make matters worse, he's a member of her own club's archrivals–the science club! And when the two clubs go to war, Peppi realizes that sometimes you have to break the rules to survive middle school!
Don't call me Ishmael by Michael Gerard Bauer
There's no easy way to put this, so I'll say it straight out. It's time I faced up to the truth. I'm fourteen years old and I have Ishmael Leseur's Syndrome. There is no cure. And there is no instant cure to not fitting in. But that won't stop Ishmael and his intrepid band of misfits from taking on bullies, bugs, babes, the Beatles, debating, and the great white whale in the toughest, the weirdest, the most embarrassingly awful…and the best year of their lives.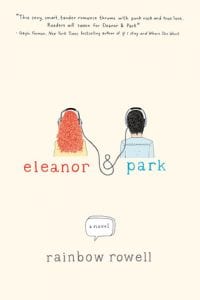 Eleanor & Park by Rainbow Rowell
A moving and funny coming-of-age novel about two misfits falling in love and growing up in 1980s America.
Eleanor is the new girl in town, and she's never felt more alone. All mismatched clothes, mad red hair and chaotic home life, she couldn't stick out more if she tried.
Park is the boy at the back of the bus, Black T-shirts, headphones, head in a book – he thinks he's made himself invisible. But not to Eleanor… never to Eleanor.
Slowly, steadily, through late-night conversations and an ever-growing stack of mix tapes, Eleanor and Park fall in love. They fall in love the way you do the first time, when you're 16, and you have nothing and everything to lose.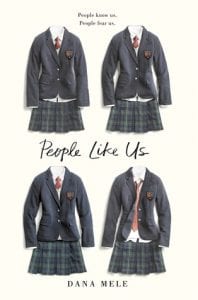 People like us by Dana Mele
Kay Donovan may have skeletons in her closet, but the past is past, and she's reinvented herself entirely. Now she's a star soccer player whose group of gorgeous friends run their private school with effortless popularity and acerbic wit. But when a girl's body is found in the lake, Kay's carefully constructed life begins to topple.
The dead girl has left Kay a computer-coded scavenger hunt, which, as it unravels, begins to implicate suspect after suspect, until Kay herself is in the crosshairs of a murder investigation. But if Kay's finally backed into a corner, she'll do what it takes to survive. Because at Bates Academy, the truth is something you make…not something that happened.
The absolutely true diary of a part-time Indian by Sherman Alexie
The story of Junior, a budding cartoonist growing up on the Spokane Indian Reservation. Determined to take his future into his own hands, Junior leaves his troubled school on the rez to attend an all-white farm town high school where the only other Indian is the school mascot.
Heartbreaking, funny, and beautifully written, The Absolutely True Diary of a Part-Time Indian, which is based on the author's own experiences, coupled with poignant drawings by Ellen Forney that reflect the character's art, chronicles the contemporary adolescence of one Native American boy as he attempts to break away from the life he was destined to live.
This is where it ends by Marieke Nijkamp
10:00 a.m. The principal of Opportunity High School finishes her speech, welcoming the entire student body to a new semester and encouraging them to excel and achieve.
10:02 a.m. The students get up to leave the auditorium for their next class.
10:03 a.m. The auditorium doors won't open.
10:05 a.m. Someone starts shooting.
Told from four different perspectives over the span of fifty-four harrowing minutes, terror reigns as one student's calculated revenge turns into the ultimate game of survival.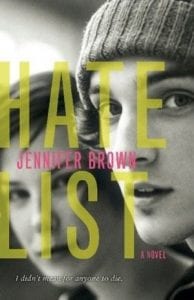 Hate List by Jennifer Brown
Five months ago, Valerie Leftman's boyfriend, Nick, opened fire on their school cafeteria. Shot trying to stop him, Valerie inadvertently saved the life of a classmate, but was implicated in the shootings because of the list she helped create. A list of people and things she and Nick hated. The list he used to pick his targets.
Now, after a summer of seclusion, Val is forced to confront her guilt as she returns to school to complete her senior year. Haunted by the memory of the boyfriend she still loves and navigating rocky relationships with her family, former friends, and the girl whose life she saved, Val must come to grips with the tragedy that took place and her role in it, in order to make amends and move on with her life.