Celebrate love and romance this Valentine's Day with a selection of romantic reads.  All these books, and many more, are available in the library.
Foolish Hearts by Emma Mills
The day of the last party of the summer, Claudia overhears a conversation she wasn't supposed to. Now on the wrong side of one of the meanest girls in school, Claudia doesn't know what to expect when the two are paired up to write a paper—let alone when they're both forced to try out for the school production of A Midsummer Night's Dream.
But mandatory participation has its upsides—namely, an unexpected friendship, a boy band obsession, and a guy with the best dimpled smile Claudia's ever seen. As Claudia's world starts to expand, she finds that maybe there are some things worth sticking her neck out for.
An authentic and likeable contemporary romance.
How To Write A Love Story by Katy Cannon
Tilly Frost has grown up reading her grandmother's bestselling romance novels – so when the one and only Beatrix Frost is taken ill, Tilly finishes writing her latest work. Then Tilly agrees to start the next book. But what is her gran hiding from her? And how can Tilly write a heart-pounding romance when she's never been in love? Can she turn her school crush into something more? One thing Tilly should know is that the course of true love never did run smooth…
Guy In Real Life by Steve Brezenoff
It is Labor Day weekend in Saint Paul, Minnesota, and boy and girl collide on a dark street at two thirty in the morning: Lesh, who wears black, listens to metal, and plays MMOs; Svetlana, who embroiders her skirts, listens to Björk and Berlioz, and dungeon masters her own RPG. They should pick themselves up, continue on their way, and never talk to each other again.
But they don't.
This is a story of two people who do not belong in each other's lives, who find each other at a time when they desperately need someone who doesn't belong in their lives. A story of those moments when we act like people we aren't in order to figure out who we are. A story of the roles we all play-at school, at home, with our friends, and without our friends-and the one person who might show us what lies underneath it all.
This is a character-driven romance told from multiple-perspectives.
What If It's Us by Becky Albertalli & Adam Silvera
The ultimate meet-cute romance…
Arthur is only in New York for the summer, but if Broadway has taught him anything, it's that the universe can deliver a showstopping romance when you least expect it.
Ben thinks the universe needs to mind its business. If the universe had his back, he wouldn't be on his way to the post office carrying a box of his ex-boyfriend's things.
But when Arthur and Ben meet-cute at the post office, what exactly does the universe have in store for them?
Maybe nothing. After all, they get separated.
Maybe everything. After all, they get reunited.
But what if they can't quite nail a first date . . . or a second first date . . . or a third?
What if Arthur tries too hard to make it work . . . and Ben doesn't try hard enough?
What if life really isn't like a Broadway play?
But what if it is?
The Last Best Story by Maggie Lehrman
Rose Regnero was a star reporter for her high school paper, destined for a career in journalism, when she abruptly quit two months ago, leaving behind her very-nearly-sort-of-boyfriend and editor-in-chief, Grant. Now she is trying to be normal at her senior prom, with a new boy and new interests, and isn't looking back.
Grant was totally blindsided when Rose walked away from the Gazette. After all, they'd dedicated their lives to it for the past four years, had even planned on majoring in journalism together at Northwestern—which is why Grant is determined to entice Rose back. But whether it's really to the paper or to him he's not entirely sure.
When an alarm is set off at prom and the school goes on lockdown, Grant discovers that someone is loose in the building with a gun. But Rose, caught outside of the gym, knows differently. Will her instincts for a good story win out against her resolve to leave Grant and the paper behind?
Do you like "falling for a friend" romances?  Well, this is quirky contemporary romance fits the bill.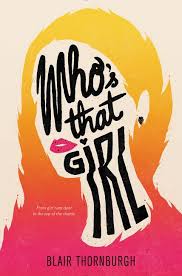 Who's That Girl by Blair Thornburgh
Junior Nattie McCullough is totally OK with her place in life: Latin whiz. Member of the school's gay-straight alliance. Joni Mitchell superfan. Seventeen-year-old who has never been kissed. So when last summer's crush and her former classmate—Young Lungs lead singer Sebastian Delacroix—comes back to town with his new hit single "Natalie," she can't bring herself to believe it could possibly be about her…could it?
As Nattie sorts through the evidence (the lyrics, Sebastian's elusive text messages, and their brief romantic encounter last year), the song's popularity skyrockets, and everyone starts speculating about "Natalie's" identity. If that wasn't mortifying enough, Nattie runs into another problem: her confusing, flirtation-packed feelings for her good friend Zach. With her once-average life upended, Nattie is determined to figure out once and for all if her short-lived past with Sebastian was something love songs are made of—or just a one-hit wonder.
The Start Of You And Me by Emery Lord
It's been a year since it happened—when Paige Hancock's first boyfriend died in an accident. After shutting out the world for two years, Paige is finally ready for a second chance at high school . . . and she has a plan. First: Get her old crush, Ryan Chase, to date her—the perfect way to convince everyone she's back to normal. Next: Join a club—simple, it's high school after all. But when Ryan's sweet, nerdy cousin, Max, moves to town and recruits Paige for the Quiz Bowl team (of all things!) her perfect plan is thrown for a serious loop. Will Paige be able to face her fears and finally open herself up to the life she was meant to live?
Prince In Disguise by Stephanie Kate Strohm
Someday I want to live in a place where I never hear "You're Dusty's sister?" ever again.
Life is real enough for Dylan—especially as the ordinary younger sister of Dusty, former Miss Mississippi and the most perfect, popular girl in Tupelo. But when Dusty wins the hand of the handsome Scottish laird-to-be Ronan on the TRC television network's crown jewel, Prince in Disguise, Dylan has to face a different kind of reality: reality TV.
As the camera crew whisks them off to Scotland to film the lead-up to the wedding, camera-shy Dylan is front and center as Dusty's maid of honor. The producers are full of surprises—including old family secrets, long-lost relatives, and a hostile future mother-in-law who thinks Dusty and Dylan's family isn't good enough for her only son. At least there's Jamie, an adorably bookish groomsman who might just be the perfect antidote to all Dylan's stress . . . if she just can keep TRC from turning her into the next reality show sensation.
29 Dates by Melissa De La Cruz
How many dates will it take to find The One?
Jisu's traditional South Korean parents are concerned by what they see as her lack of attention to her schoolwork and her future. Working with Seoul's premiere matchmaker to find the right boyfriend is one step toward ensuring Jisu's success, and going on the recommended dates is Jisu's compromise to please her parents while finding space to figure out her own dreams. But when she flubs a test then skips out on a date to spend time with friends, her fed-up parents shock her by shipping her off to a private school in San Francisco. Where she'll have the opportunity to shine academically—and be set up on more dates!
Navigating her host family, her new city and school, and more dates, Jisu finds comfort in taking the photographs that populate her ever-growing social media account. Soon attention from two very different boys sends Jisu into a tailspin of soul-searching. As her passion for photography lights her on fire, does she even want to find The One? And what if her One isn't parent and matchmaker approved?
Save The Date by Morgan Matson
Charlie Grant's older sister is getting married this weekend at their family home, and Charlie can't wait for the first time in years, all four of her older siblings will be under one roof. Charlie is desperate for one last perfect weekend, before the house is sold and everything changes. The house will be filled with jokes and games and laughs again. Making decisions about things like what college to attend and reuniting with longstanding crush Jesse Foster all that can wait. She wants to focus on making the weekend perfect.
The only problem? The weekend is shaping up to be an absolute disaster. There's the unexpected dog with a penchant for howling, house alarm that won't stop going off, and a papergirl with a grudge.
There are the relatives who aren't speaking, the (awful) girl her favorite brother brought home unannounced, and a missing tuxedo. Not to mention the neighbor who seems to be bent on sabotage and a storm that is bent on drenching everything. The justice of the peace is missing. The band will only play covers. The guests are all crazy. And the wedding planner's nephew is unexpectedly, distractedly cute.
Over the course of three ridiculously chaotic days, Charlie will learn more than she ever expected about the family she thought she knew by heart. And she'll realize that sometimes, trying to keep everything like it was in the past means missing out on the future.
Flame In The Mist by Renee Ahdieh
The only daughter of a prominent samurai, Mariko has always known she'd been raised for one purpose and one purpose only: to marry. Never mind her cunning, which rivals that of her twin brother, Kenshin, or her skills as an accomplished alchemist. Since Mariko was not born a boy, her fate was sealed the moment she drew her first breath.
So, at just seventeen years old, Mariko is sent to the imperial palace to meet her betrothed, a man she did not choose, for the very first time. But the journey is cut short when Mariko's convoy is viciously attacked by the Black Clan, a dangerous group of bandits who've been hired to kill Mariko before she reaches the palace.
The lone survivor, Mariko narrowly escapes to the woods, where she plots her revenge. Dressed as a peasant boy, she sets out to infiltrate the Black Clan and hunt down those responsible for the target on her back. Once she's within their ranks, though, Mariko finds for the first time she's appreciated for her intellect and abilities. She even finds herself falling in love—a love that will force her to question everything she's ever known about her family, her purpose, and her deepest desires.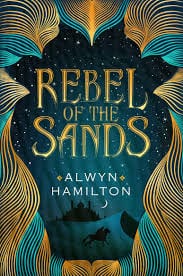 Rebel Of The Sandy by Alwyn Hamilton
"Tell me that and we'll go. Right now. Save ourselves and leave this place to burn. Tell me that's how you want your story to go and we'll write it straight across the sand."
Dustwalk is an unforgiving, dead-end town. It's not the place to be poor or orphaned or female. And yet Amani Al'Hiza must call it 'home'.
Amani wants to escape and see the world she's heard about in campfire stories.
Then a foreigner with no name turns up, and with him she has the chance to run.
But the desert plains are full of dangerous magic. The Sultan's army is on the rise and Amani is soon caught at the heart of a fearless rebellion…
An epic story of swirling desert sands, love, magic and revolution.
How To Keep Rolling After A Fall by Karole Cozzo
After a cyber bullying incident turns her life upside down, a handsome wheelchair rugby player shows a former mean girl that everyone deserves a second chance.
The party was at her house. The photos were posted to her Facebook account. That's all the evidence anyone needed to condemn Nikki Baylor for a cyberbullying incident that humiliated a classmate and nearly resulted in the girl's suicide. Now Nikki's been expelled from her old school, her friends have abandoned her, and even her own parents can't look her in the eye. With her plans for the future all but destroyed, Nikki resigns herself to being the girl everyone hates – almost as much as she hates herself. But then Nikki meets Pax, a spirited wheelchair rugby player who knows what it's like when one mistake completely shatters your life. Refusing to judge her because of her past, he shows her that everyone deserves a second chance… and everyone deserves to be loved.
Alex, Approximately by Jenn Bennett
Bailey "Mink" Rydell has met the boy of her dreams. They share a love of films and talk all day – Alex is perfect. Well, apart from the fact that they've never actually met . . . and neither of them knows the other's real name.
When Bailey moves to sunny California to live with her dad, who happens to live in the same town as Alex, she decides to track him down. But finding someone based on online conversations alone proves harder than Bailey thought, and with her irritating but charismatic (and potentially attractive?) colleague Porter Roth distracting her at every turn, will she ever get to meet the mysterious Alex?