Do you enjoy reading about real people and their unique stories?  Then here are some books for you…
How Dare The Sun Rise by Sandra Uwiringiyimana with Abigail Pesta
This profoundly moving memoir is the remarkable and inspiring true story of Sandra Uwiringyimana, a girl from the Democratic Republic of the Congo who tells the tale of how she survived a massacre, immigrated to America, and overcame her trauma through art and activism.
Sandra was just ten years old when she found herself with a gun pointed at her head. She had watched as rebels gunned down her mother and six-year-old sister in a refugee camp. Remarkably, the rebel didn't pull the trigger, and Sandra escaped.
Thus began a new life for her and her surviving family members. With no home and no money, they struggled to stay alive. Eventually, through a United Nations refugee program, they moved to America, only to face yet another ethnic disconnect. Sandra may have crossed an ocean, but there was now a much wider divide she had to overcome. And it started with middle school in New York.
In this memoir, Sandra tells the story of her survival, of finding her place in a new country, of her hope for the future, and how she found a way to give voice to her people.
Into The White : Scott's Antarctic Odyssey by Joanna Grochowicz
"Great God, this is an awful place." 
Robert Falcon Scott's famous words uttered on the polar plateau don't paint Antarctica in the best possible light. In fact things were about to get a whole lot worse for Scott and the four men who accompanied him to the South Pole. But this is no dismal tragedy. The story of Captain Scott's Terra Nova expedition is pure adventure with all the elements of a great epic—storms at sea, impenetrable ice pack, man-eating whales, crevasses, blizzards, scientific discovery, bad food, extreme temperatures, and equal measures of hunger, agony and snow blindness. With a cast of memorable characters, vicious dogs and reluctant ponies, Captain Scott plans to be first to reach the South Pole. Will the weather hold? Will the rations be adequate? How will they know when they get there? And who invited the Norwegians?
Into the White will leave you on the edge of your seat, hoping against hope that Scott and his men just might survive their Antarctic ordeal and live to tell the tale.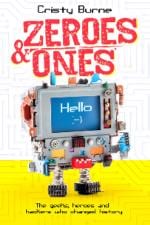 Zeroes & Ones : The geeks, heroes and hackers who changed history by Cristy Burne
Fuelled by pizza, late nights and unparalleled geekery, this is the history of some of the world's most important milestones in the development of technology – from the earliest computers made of light bulbs and an old tin to Wikileaks and smartphones.
Packed with weird facts, astonishing tidbits and extraordinary anecdotes, travel around the world and meet the people who made the world we live in today.
Google It: A History of Google : How Two Students' Mission to Organize the Internet Changed the World by Anna Crowley Redding
From a college project made out of knock-off Legos to one of the most influential companies in the world, award-winning investigative reporter Anna Redding shares the true story of Google, its history, its innovations, and where it will take us next.
Think. Invent. Organize. Share. Don't be evil. And change the world.
Larry Page and Sergey Brin started out as two Stanford college students with a wild idea: They were going to organize the world's information. From that one deceptively simple goal, they created one of the most influential and innovative companies in the world. The word "google" has even entered our vocabulary as a verb. Now, find out the true history of Google—from its humble beginnings as a thesis project made out of "borrowed" hardware and discount toys through its revolution of the world's relationship with technology to a brief glimpse of where they might take us next.
Award-winning investigative reporter Anna Redding shares an inspiring story of innovation, personal and intellectual bravery, and most importantly, of shooting for the moon in order to change the world.
In Real Life : My Journey to a Pixelated World by Joey Graceffa
A confessional, uplifting memoir from the beloved YouTube personality.
It's not where you begin that matters.
It's where you end up.
Twenty-three year old Joey Graceffa has captured the hearts of millions of teens and young adults through his playful, sweet, and inspirational YouTube presence (not to mention his sparkling eyes and perfect hair). Yet, Joey wasn't always comfortable in his skin, and in this candid memoir, he thoughtfully looks back on his journey from pain to pride, self-doubt to self-acceptance.
To his fans, Joey is that best friend who always captures the brighter side of life but also isn't afraid to get real. In the pages of his first book, he opens up about his years of struggling with family hardships and troubles at school, with cruel bullying and the sting of rejection. He tells of first loves and losses, embarrassing moments and surprising discoveries, loneliness, laughter, and life-changing forks in the road, showing us the incalculable value of finally finding and following your true passion in this world. Funny, warm-hearted, and inspiring, Joey Graceffa's story is a welcome reminder that it's not where you begin that matters, but where you end up.
Hope In A Ballet Shoe : Saved by Ballet  by Michaele & Elaine DePrince
Orphaned by war, saved by ballet.
Growing up in war-torn Sierra Leone, Michaela DePrince witnesses atrocities that no child ever should. Her father is killed by rebels and her mother dies of famine. Sent to an orphanage, Michaela is mistreated and she sees the brutal murder of her favourite teacher.
But there is hope: the Harmattan wind blows a magazine through the orphanage gates. Michaela picks it up and sees a beautiful image of a young woman dancing. One day, she thinks, I want to be this happy.
And then Michaela and her best friend are adopted by an American couple and Michaela can take the dance lessons she's dreamed of since finding her picture.
Life in the States isn't without difficulties. Unfortunately, tragedy can find its way to Michaela in America, too, and her past can feel like it's haunting her. The world of ballet is a racist one, and Michaela has to fight for a place amongst the ballet elite, hearing the words "America's not ready for a black girl ballerina".
And yet…
Today, Michaela is an international ballet star, dancing for The Dutch National Ballet at the age of 19.
A heart-breaking, inspiring autobiography by a teenager who shows us that, beyond everything, there is always hope for a better future.
Becoming Nicole : The Transformation of an American Family by Amy Ellis Nutt
The inspiring true story of a transgender girl, her identical twin brother, and an ordinary American family's extraordinary journey to understand, nurture, and celebrate the uniqueness in us all, from the Pulitzer Prize–winning science reporter for The Washington Post
When Wayne and Kelly Maines adopted identical twin boys, they thought their lives were complete. But it wasn't long before they noticed a marked difference between Jonas and his brother, Wyatt. Jonas preferred sports and trucks and many of the things little boys were "supposed" to like; but Wyatt liked princess dolls and dress-up and playing Little Mermaid. By the time the twins were toddlers, confusion over Wyatt's insistence that he was female began to tear the family apart. In the years that followed, the Maineses came to question their long-held views on gender and identity, to accept and embrace Wyatt's transition to Nicole, and to undergo an emotionally wrenching transformation of their own that would change all their lives forever.
Becoming Nicole chronicles a journey that could have destroyed a family but instead brought it closer together. It's the story of a mother whose instincts told her that her child needed love and acceptance, not ostracism and disapproval; of a Republican, Air Force veteran father who overcame his deepest fears to become a vocal advocate for trans rights; of a loving brother who bravely stuck up for his twin sister; and of a town forced to confront its prejudices, a school compelled to rewrite its rules, and a courageous community of transgender activists determined to make their voices heard. Ultimately, Becoming Nicole is the story of an extraordinary girl who fought for the right to be herself.
Granted wide-ranging access to personal diaries, home videos, clinical journals, legal documents, medical records, and the Maineses themselves, Amy Ellis Nutt spent almost four years reporting this immersive account of an American family confronting an issue that is at the center of today's cultural debate. Becoming Nicole will resonate with anyone who's ever raised a child, felt at odds with society's conventions and norms, or had to embrace life when it plays out unexpectedly. It's a story of standing up for your beliefs and yourself—and it will inspire all of us to do the same.
Steve Jobs : Insanely Great by Jesse Hartland
Told through a combination of black-and-white illustrations and handwritten text, this fast-paced and entertaining biography in graphic format presents the story of the ultimate American entrepreneur, the man who brought us Apple Computer, Pixar, Macs, iPods, iPhones, and more.
Jobs's remarkable life reads like a history of the personal technology industry. He started Apple Computer in his parents' garage and eventually became the tastemaker of a generation, creating products we can't live without. Through it all, he was an overbearing and demanding perfectionist, both impossible and inspiring. Capturing his unparalleled brilliance, as well as his many demons, Jessie Hartland's engaging biography illuminates the meteoric successes, devastating setbacks, and myriad contradictions that make up the extraordinary life and legacy of the insanely great Steve Jobs.
Steve Jobs : The Man Who Thought Different by Karen Blumenthal
"Your time is limited. . . . have the courage to follow your heart and intuition."–Steve Jobs
From the start, his path was never predictable. Steve Jobs was given up for adoption at birth, dropped out of college after one semester, and at the age of twenty, created Apple in his parents' garage with his friend Steve Wozniack. Then came the core and hallmark of his genius–his exacting moderation for perfection, his counterculture life approach, and his level of taste and style that pushed all boundaries. A devoted husband, father, and Buddhist, he battled cancer for over a decade, became the ultimate CEO, and made the world want every product he touched.
Fedegraphica by Mark Hodgkinson
Universally recognised as the greatest tennis player of all time, and maybe even the greatest athlete, Roger Federer is one of sport's most iconic and popular figures and is adored by millions around the world.
In this graphic biography like no other, his genius and astonishing records — no man has won more majors, or spent more weeks as the world number one — are explored and celebrated with beautiful infographics analysing his serving patterns, the speed of his shots, the spin he generates, his movement, as well as his performance in high-pressure situations such as tiebreaks and Grand Slam finals.
Drawing on interviews with Federer and those close to him, this is the story of how a young hothead from Basel transformed himself into a calm and poised athlete who came to dominate tennis. And who, while deep in his thirties, has continued to seek improvements, to challenge men many years younger than him and to contend for the sport's biggest prizes. The sheer brilliance of Roger Federer is revealed through illuminating infographics of his game alongside stunning photography, stories and analysis from those who have played, watched and admired him that will give you a new appreciation of his greatness and how his tennis has moved so many people.
Messigraphica by Sanjeev Shetty
Lionel Messi is universally recognised as one of the greatest footballers of all time. From his childhood days kicking a ball on the streets of Rosario, Argentina, through his rise at the Barcelona academy, Messi has dribbled, dazzled and fired his way into the footballing elite.
In this innovative biography, Messi's genius is explored and celebrated like never before: striking infographics illustrate the brilliance of his performances in football's greatest occasions, illuminate his pitch coverage and ball skills, as well as, his outstanding goal-scoring feats – no man has scored more goals in a calendar year. Messi's talent, athleticism and eye for the game are showcased against his teammates, rivals and footballing legends.
Analysing his years under the tutelage of Pep Guardiola, the overarching shadow of fellow Argentine great Maradona and his rivalry with Cristiano Ronaldo, Sanjeev Shetty charts Messi's rise into a player revered in equal parts for the goals he scores and the ones he creates.
Through infographics, photography and analysis, Messigraphicareveals the genius of Barcelona's greatest like never before.
I am Ghandi : a graphic biography of a hero by Brad Meltzer
Twenty-five exceptional comic book creators join forces to share the heroic story of Gandhi in this inspiring graphic novel biography.
As a young man in India, Gandhi saw firsthand how people were treated unfairly. Refusing to accept injustice, he came up with a brilliant way to fight back through quiet, peaceful protest. He used his methods in South Africa and India, where he led a nonviolent revolution that freed his country from British rule. Through his calm, steady heroism, Gandhi changed the lives of millions and inspired civil rights movements all over the world, proving that the smallest of us can be the most powerful.
Galvanized by Gandhi's example of gentle, peaceful activism, New York Times bestselling author Brad Meltzer asked his friends in the comic book world to help him make a difference by creating this philanthropic graphic novel. Twenty-four illustrators–including many of the most acclaimed artists in comics today–enthusiastically joined the project, agreeing to donate their work so that their royalties can go to Seeds of Peace, a non-profit organization that inspires and cultivates new generations of global leaders. This extraordinary biography is a glorious team effort that truly exemplifies Gandhi's selflessness and love for humanity.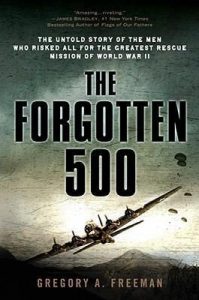 The Forgotten 500 : the untold story of the men who risked all for the greatest rescue mission of World War II by Gregory A. Freeman
In 1944 the OSS set out to recover more than 500 airmen trapped and sheltered for months by villagers behind enemy lines in Yugoslavia. Classified for over half a century for political reasons, this is the full account of Operation Halyard, a story of loyalty, self-sacrifice, and bravery.
I am Malala : the girl who stood up for education and was shot by the Taliban by Malala Yousafzai and Christina Lamb
I come from a country that was created at midnight. When I almost died it was just after midday.
When the Taliban took control of the Swat Valley in Pakistan, one girl spoke out. Malala Yousafzai refused to be silenced and fought for her right to an education.
On Tuesday, October 9, 2012, when she was fifteen, she almost paid the ultimate price. She was shot in the head at point-blank range while riding the bus home from school, and few expected her to survive.
Instead, Malala's miraculous recovery has taken her on an extraordinary journey from a remote valley in northern Pakistan to the halls of the United Nations in New York. At sixteen, she has become a global symbol of peaceful protest and the youngest-ever Nobel Peace Prize laureate.
I Am Malala is the remarkable tale of a family uprooted by global terrorism, of the fight for girls' education, of a father who, himself a school owner, championed and encouraged his daughter to write and attend school, and of brave parents who have a fierce love for their daughter in a society that prizes sons.
Unmasked by Turia Pitt and Bryce Corbett
Telling the story of Turia's life before and after the fire, this young readers' this book unmasks the real Turia: funny, fierce, intelligent, flawed. With a new foreword from Turia, additional content and a new Q&A section, this edition covers topics such as confidence, goal-setting, family and friends and happiness that will resonate strongly with tweens and teens.
Growing up Aboriginal in Australia edited by Anita Heiss
What is it like to grow up Aboriginal in Australia?
This anthology, compiled by award-winning author Anita Heiss, showcases many diverse voices, experiences and stories in order to answer that question. Accounts from well-known authors and high-profile identities sit alongside those from newly discovered writers of all ages. All of the contributors speak from the heart sometimes calling for empathy, oftentimes challenging stereotypes, always demanding respect.
Limitless : inspirations for a ridiculously good life by Nick Vujicic
Born without arms or legs, Nick Vujicic overcame his disability to find a rich and independent life that is a model for anyone seeking authentic contentment. The author of the best selling books Life Without Limits and Unstoppable, Nick now offers succinct insights and encouragement to anyone – regardless of circumstances.
Finding Nevo by Nevo Zisin
Meet Nevo: girl, boy, he, she, him, her, they, them, daughter, son, teacher, student, friend, gay, bi, lesbian, trans, homo, Jew, dyke, masculine, feminine, androgynous, queer. Nevo was not born in the wrong body. Nevo just wants everyone to catch up with all that Nevo is. Personal, political and passionate, Finding Nevo is an autobiography about gender and everything that comes with it.
In Order To Live : A North Korean Girl's Journey to Freedom by Yeonmi Park
'I am most grateful for two things: that I was born in North Korea, and that I escaped from North Korea.' 
Yeonmi Park was not dreaming of freedom when she escaped from North Korea. She didn't even know what it meant to be free. All she knew was that she was running for her life, that if she and her family stayed behind they would die – from starvation, or disease, or even execution.
This book is the story of Park's struggle to survive in the darkest, most repressive country on earth; her harrowing escape through China's underworld of smugglers and human traffickers; and then her escape from China across the Gobi desert to Mongolia, with only the stars to guide her way, and from there to South Korea and at last to freedom; and finally her emergence as a leading human rights activist – all before her 21st birthday.
Boys Who Rocked The World : Heroes from King Tut to Bruce Lee by Michelle Roehm McCann
Boys Who Rocked The World introduces readers to forty-five movers and shakers who rocked the world. A variety of achievements, interests, and ethnic backgrounds are represented, from Wolgang Amadeus Mozart and Bruce Lee to Crazy Horse and Stephen King. Personal aspirations from today's young men are interspersed throughout the book, as well as profiles of teenagers who are out there rocking the world right now—boys like John Collinson, the youngest person to climb the Seven Summits, and Alec Loorz, who founded the non-profit organization Kids vs. Global Warming.