The fate of the world hangs in the balance, and only one special person can save it: The Chosen One!
Everyone would love for someone to turn up one day and say, "Yes, you are special.  Your struggles are worth it."
But until that happens to you…. why not read about some other Chosen Ones with these books available in the library.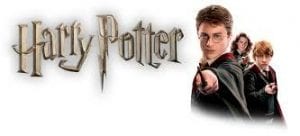 The Harry Potter series by J.K. Rowling – the most famous Chosen One.  If you haven't read this series…. why not?
Carry On by Rainbow Rowell
Simon Snow is the worst Chosen One who's ever been chosen.
That's what his roommate, Baz, says. And Baz might be evil and a vampire and a complete git, but he's probably right.
Half the time, Simon can't even make his wand work, and the other half, he starts something on fire. His mentor's avoiding him, his girlfriend broke up with him, and there's a magic-eating monster running around, wearing Simon's face. Baz would be having a field day with all this, if he were here — it's their last year at the Watford School of Magicks, and Simon's infuriating nemesis didn't even bother to show up.
The Dark is Rising by Susan Cooper
"When the Dark comes rising, six shall turn it back, three from the circle, three from the track; wood, bronze, iron; water, fire, stone; five will return, and one go alone."
With these mysterious words, Will Stanton discovers on his 11th birthday that he is no mere boy. He is the Sign-Seeker, last of the immortal Old Ones, destined to battle the powers of evil that trouble the land. His task is monumental: he must find and guard the six great Signs of the Light, which, when joined, will create a force strong enough to match and perhaps overcome that of the Dark. Embarking on this endeavor is dangerous as well as deeply rewarding; Will must work within a continuum of time and space much broader than he ever imagined.
Eon: Dragoneye reborn by Alison Goodman
Swordplay, dragon magic–and a hero with a desperate secret
Twelve-year-old Eon has been in training for years. His intensive study of Dragon Magic, based on East Asian astrology, involves two kinds of skills: sword-work and magical aptitude. He and his master hope that he will be chosen as a Dragoneye–an apprentice to one of the twelve energy dragons of good fortune.
But Eon has a dangerous secret. He is actually Eona, a sixteen-year-old girl who has been masquerading as a boy for the chance to become a Dragoneye. Females are forbidden to use Dragon Magic; if anyone discovers she has been hiding in plain sight, her death is assured.
When Eon's secret threatens to come to light, she and her allies are plunged into grave danger and a deadly struggle for the Imperial throne. Eon must find the strength and inner power to battle those who want to take her magic…and her life.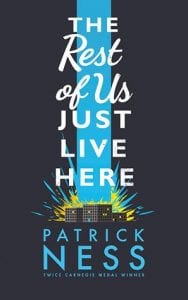 The Rest Of Us Just Live Here by Patrick Ness
What if you aren't the Chosen One?
The one who's supposed to fight the zombies, or the soul-eating ghosts, or whatever the heck this new thing is, with the blue lights and the death?
What if you're like Mikey? Who just wants to graduate and go to prom and maybe finally work up the courage to ask Henna out before someone goes and blows up the high school. Again.
Because sometimes there are problems bigger than this week's end of the world, and sometimes you just have to find the extraordinary in your ordinary life.
Even if your best friend is worshipped by mountain lions…
Mister Monday (The Keys to the Kingdom Book #1) by Garth Nix
Arthur Penhaligon's first days at his new school don't go too well, particularly when a fiendish Mister Monday appears, gives Arthur a magical clock hand, and then orders his gang of dog-faced goons to chase Arthur around and get it back. But when the confused and curious boy discovers that a mysterious virus is spreading through town, he decides to enter an otherworldly house to stop it. After meeting Suzy Blue and the first part of "the Will" (a frog-looking entity that knows everything about the House), Arthur learns that he's been selected as Rightful Heir to the House and must get the other part of the clock hand in order to defeat Monday. That means getting past Monday's henchmen and journeying to the Dayroom itself. Thankfully, Arthur is up to the challenge, but as he finds out, his fight seems to be only one-seventh over.
With a weapon-wielding hero and a villain who doesn't make Mondays any nicer, Nix's Keys to the Kingdom launch is imaginative and gripping. After an action-packed crescendo to the book's middle — when Arthur finally learns his destiny — Nix keeps the drama going and doesn't let it fall. By the end, you might be winded from all the fantastic explanation, but you'll definitely be salivating for what's to come.